'Wonder Woman' Proves We Need More Female Superheroes -- And Directors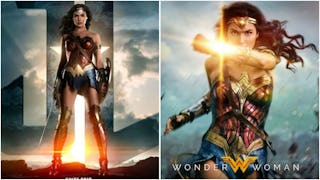 Image Via Gal Gadot Instagram
The 'Wonder Woman' reviews are in — and she's as great as we knew she'd be
Every generation of girls has a defining figure when it comes to their pop culture introduction to "girl power." For one generation, that may mean Lynda Carter's OG Wonder Woman or Carrie Fisher's Princess Leia. For another (ahem), girl power was introduced by the Spice Girls and their unapologetic lyrics, peace signs, and platform shoes. Today's girls have a number of pop culture figures to look up to and feel emboldened by, and that includes the new remake of Wonder Woman starring Gal Gadot, which premieres this weekend.
Critics are already calling it "one of the best superhero movies ever made" for a variety of reasons, the most noteworthy and collectively agreed upon reason being that it carries its weight among the typical male-driven action movies in terms of plot and profitability. (Which…yeah, duh. It's Wonder Woman, FFS.)
Arguably the best part about the remake beyond the film itself is that it's directed by a female. What a novel concept, right? A female-led story brought to the screen by a female storyteller? If you listen closely, you may just hear the collective shattering of fragile male egos who still haven't recovered from that all-female screening.
But director Patty Jenkins, who previously directed 2003's Monster with Charlize Theron, told the LA Times that being raised by a feminist mother is how she stays undaunted by the weight of being a director. "I'm not just a filmmaker, it's that I'm a woman filmmaker," Jenkins said. "It's dual, because on the one hand I'm shocked that that's such a rarity, [and] I'm super grateful that I'm the person who gets to do it, but on the other hand, I only got here by not thinking about that at all. I got here by assuming that I could do what I wanted if I was willing to work hard enough to do it."
Honestly, aren't we getting a little sick and tired of female stories being told by males anyway?
Of course, a superhero movie with a bad-ass woman at the helm on-screen and behind the scenes means being subjected to misogynistic criticism in ways male superhero movies never are. There have already been plenty of think-pieces published surrounding Wonder Woman's outfit, accessories, and appearance because the patriarchy owns and dominates all things superhero-related. Even though Batman, Superman, and Spiderman all don Lycra costumes that leave little to the imagination, it's OK because no one cares! They're superheroes! They're being awesome and brave and kicking ass! No one ever questions whether these heroes are good role models or clutches their pearls over a Spandex-covered man-tushy.
"It's not the male gaze that's made little girls buy princess dolls for all these years," Jenkins told the LA Times. "They're into it. And so we're into it. Who's been the fan base that's kept Wonder Woman alive all these years? Women. So let her be the every glorious thing that she is. Including hot and beautiful and sexy and loving and great and kind."
Amen, sister. After all, girl power is really just a cry for gender equality. And just the fact that this movie exists demonstrates that novel concept in so many Wonder-ful ways (groan-worthy mom pun delightfully intended).