Why I Won't Donate To Your Toy Drive
by Katherine Belliel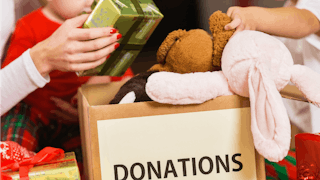 Steve Debenport/Getty
I get it; you want to do something nice for the holidays. As parents, we also want to institute a sense of giving and charity in our own children this holiday season. 'Tis the season for giving, right? It's the easiest time to do so. Everywhere there are can drives, fundraising dinners, collections, etc. The sense of giving that revs into overdrive between Thanksgiving and Christmas is a good thing when channeled well. However, I will not be donating to your toy drive, and here is why.
When my son was four, the gas company came to our house to shut off the gas. My son had a stomach bug at the time, and was exhausted from throwing up all night. I was in the beginning stages of my divorce, and did not realize my then-husband had not paid the bills until the gas employee showed up to turn everything off. I was distraught, a sick kid on my hands and the possibility of no gas for hot water, cooking, or heat was terrifying. I begged him to give me a couple of days to sort it out, but he had to do his job. Yes, I cried, and without shame. The gas company had sent notices that I had not seen, as they had gone to my then-husband, so they were resolute. Our gas was shut off.
I am not relaying this story for pity, as I was able to get the money together and the gas was back on within three days. I understand the privilege in the ability for me to do so. How this story relates to a toy drive is that the memory of this temporary situation forever traumatized my son, who witnessed me crying and begging the gas company employee and panicking until I found the money and the utility was restored. He vividly remembers me scrambling to find a place that would take a sick kid for a few days until we got heat and hot water again.
Today, four years later, if you ask my son what he wants for Christmas, he will tell you to give us money "so our gas doesn't get turned off again." It breaks my heart.
Children are aware of when their family is facing economic hardship. Most of them do not want a toy for Christmas, but would rather know that their family is looked after. That is the most beautiful gift to give a child, as I know firsthand. Remember when the pay it forward concept took off when going through the Starbucks drive-thru a few years back? Where people started buying the coffees for the folks behind them?
I propose something similar, paying forward utility, rent, and other necessary payments. I estimate that many people give at least $100 in gifts to charity this season, probably in the form of a toy or physical object. $100 could pay someone's electric bill for two months, instead. Or, ease the amount of an overdue rent payment.
Yes, I know that finding a way to donate like this could be tricky, but I encourage people to try. Personally, I went to pay one of my utilities in person, and asked if I could donate towards someone else's unpaid bill. One company allowed me to do so; another one had too much red tape. Schools have been a bit easier on being approached to pay unpaid lunch bills. I especially encourage checking into this for local high schools.
This country faces a problem of vapid consumerism and adoration for "things." If you truly want to give, consider making an actual difference with your money. As a child, the wonderful memories of Christmas most of us have were of family being happy, not what presents we opened. If you really want to make a child happy this holiday season, do something that actively helps alleviate the financial and economic stress of the parents. Check out this viral thread of the necessities many kids in this country are asking for in lieu of gifts and it will break your heart.
So no, I won't be giving to your toy drive, although I applaud your good intentions. I encourage, no I beg you, to put that energy, effort, and money towards making a true difference in the life of a child and a family.
This article was originally published on