135+ Words of Encouragement To Get You Through A Difficult Time
by Team Scary Mommy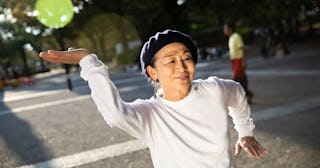 Shiho Fukada/ Getty Images
Whether you've received a recent setback or you're experiencing a serious case of the Mondays, getting over that hump day, or feeling those Sunday scaries, everyone can use some words of encouragement to get back in the game. Perhaps you're dealing with a loss, a difficult time at work, or just trying to get through the curveballs that the pandemic has thrown your way. The collective "we" may not agree on everything, but we can probably all agree by now that 2020 was a lot. And, you know, 2021 seems to be following suit. So, who among us doesn't need help keeping our spirits up? But given the fact that face-to-face conversations are trickier these days, inspiring pep talks may feel few and far between — which is why we rounded up some seriously inspirational quotes and words of encouragement.
Let this curated collection of wisdom motivate you to manifest your best life (despite any chaos surrounding you). Feel free to pull these out especially if you're on remote learning duties with the kids. Either way, go get 'em!
Need more positivity in your life? Check out our sweet quote pages on honesty, confidence, thinking of you, and more.
"You are not here merely to make a living. You are here in order to enable the world to live more amply, with greater vision, with a finer spirit of hope and achievement. You are here to enrich the world, and you impoverish yourself if you forget the errand." — Woodrow Wilson
"Believe you can and you're halfway there." — Theodore Roosevelt
"Optimism is the faith that leads to achievement. Nothing can be done without hope and confidence." — Helen Keller
"It doesn't matter who you are, where you come from. The ability to triumph begins with you. Always." — Oprah Winfrey
"Courage, dear heart." — C.S. Lewis
"If I cannot do great things, I can do small things in a great way." — Martin Luther King Jr.
"In the middle of difficulty lies opportunity." — Albert Einstein
"And you ask, 'What if I fall?' Oh, but my darling, what if you fly?" — Erin Hanson
"Go confidently in the direction of your dreams. Live the life you have imagined." — Henry Thoreau
"You must do the thing you think you cannot do." — Eleanor Roosevelt
"Be the change that you wish to see in the world." — Mahatma Gandhi
"It doesn't matter how slow you go as long as you don't stop." — Confucius
"Don't wait. The time will never be just right." — Napoleon Hill
"Anything's possible if you've got enough nerve." — J.K. Rowling
"No matter what people tell you, words and ideas can change the world." — Robin Williams
"No matter what you're going through, there's a light at the end of the tunnel." — Demi Lovato
"A champion is defined not by their wins but by how they can recover when they fall." — Serena Williams
"Everyone has inside them a piece of good news. The good news is you don't know how great you can be! How much you can love! What you can accomplish! And what your potential is." — Anne Frank
"Try to be a rainbow in someone else's cloud." — Maya Angelou
"In essence, if we want to direct our lives, we must take control of our consistent actions. It's not what we do once in a while that shapes our lives, but what we do consistently." — Tony Robbins
"In case you forgot to remind yourself this morning, your butt is perfect. Your smile lights up the room. Your mind is insanely cool. You are way more than enough. And you are doing an amazing job at life." — Unknown
"Our greatest weakness lies in giving up. The most certain way to succeed is always to try just one more time." — Thomas A. Edison
"It is impossible to live without failing at something, unless you live so cautiously that you might as well not have lived at all, in which case you have failed by default." — J.K. Rowling
"A life spent making mistakes is not only more honorable, but more useful than a life spent in doing nothing." — George Bernard Shaw
"It always seems impossible until it is done." — Nelson Mandela
"It is very important to know who you are. To make decisions. To show who you are." — Malala Yousafzai
"Life shrinks or expands in proportion with one's courage." — Anaïs Nin
"Just don't give up trying to do what you really want to do. Where there is love and inspiration, I don't think you can go wrong." — Ella Fitzgerald
"Motivation comes from working on things we care about." — Sheryl Sandberg
"You will never do anything in this world without courage. It is the greatest quality in the mind next to honor." — Aristotle
"One's life has value so long as one attributes value to the life of others, by means of love, friendship, indignation and compassion." — Simone De Beauvoir
"The best revenge is massive success." — Frank Sinatra
"Some luck lies in not getting what you thought you wanted but getting what you have, which once you have got it, you may be smart enough to see is what you would have wanted had you known." — Garrison Keillor
"Set your goals high and don't stop till you get there." — Bo Jackson
"The secret of health for both mind and body is not to mourn for the past, not to worry about the future, but to live the present moment wisely and earnestly." — Buddha
"If one dream should fall and break into a thousand pieces, never be afraid to pick one of those pieces up and begin again." — Flavia
"You are enough just as you are." — Meghan Markle
"Soon, when all is well, you're going to look back on this period of your life and be so glad that you never gave up." — Brittany Burgunder
"Limit your 'always' and your 'nevers.'" — Amy Poehler
"Failure will never overtake me if my determination to succeed is strong enough." — Og Mandino
"Doing the best at this moment puts you in the best place for the next moment." — Oprah Winfrey
"When one door closes another door opens; but we so often look so long and so regretfully upon the closed door, that we do not see the ones which open for us." — Alexander Graham Bell
"Inspiration comes from within yourself. One has to be positive. When you're positive, good things happen." — Deep Roy
"Nobody cares if you can't dance well. Just get up and dance. Great dancers are not great because of their technique, they are great because of their passion." — Martha Graham
"Only I can change my life. No one can do it for me." — Carol Burnett
"You must never be fearful about what you are doing when it is right." — Rosa Parks
"Strive not to be a success but rather to be of value." — Albert Einstein
"I decided, very early on, just to accept life unconditionally; I never expected it to do anything special for me, yet I seemed to accomplish far more than I had ever hoped. Most of the time it just happened to me without my ever seeking it." — Audrey Hepburn
"Always be a first-rate version of yourself, instead of a second-rate version of somebody else." — Judy Garland
"Fall seven times, stand up eight." — Japanese Proverb
"A bird doesn't sing because it has an answer, it sings because it has a song." — Maya Angelou
"Do you want to know who you are? Don't ask. Act! Action will delineate and define you." — Thomas Jefferson
"Life is 10 percent what happens to you and 90 percent how you react to it." — Charles R. Swindoll
"It is never too late to be what you might have been." — George Eliot
"When life knocks you down, try to land on your back. Because if you can look up, you can get up." — Les Brown
"Act as if what you do makes a difference. It does." — William James
"Stay close to anything that makes you glad you are alive." — Hafez
"There is in every true woman's heart a spark of heavenly fire, which lies dormant in the broad daylight of prosperity; but which kindles up, and beams and blazes in the dark hour of adversity." — Washington Irving
"You do not find the happy life. You make it." — Camilla Eyring Kimball
"Never let the odds keep you from doing what you know in your heart you were meant to do." — H. Jackson Brown Jr.
"There's a season for everything. This one may look like a setback. It doesn't mean you're failing, but that God is growing you in a new way." — Brittney Moses
"Success is not final, failure is not fatal. It is the courage to continue that counts." — Winston Churchill
"Keep your face always toward the sunshine, and shadows will fall behind you." — Walt Whitman
"Don't think, just do." — Horace
"Why should you continue going after your dreams? Because seeing the look on the faces of the people who said you couldn't will be priceless." — Kevin Ngo
"I can't change the direction of the wind, but I can adjust my sails to always reach my destination." — Jimmy Dean
"Embrace uncertainty. Some of the most beautiful chapters in our lives won't have a title until much later." — Bob Goff
"Believe in yourself! Have faith in your abilities! Without a humble but reasonable confidence in your own powers, you cannot be successful or happy." — Norman Vincent Peale
"Someday everything will make perfect sense. So for now laugh at the confusion, smile through the tears, and keep reminding yourself that everything happens for a reason." — Unknown
"If the wind will not serve, take to the oars." — Latin Proverb
"You don't always need a plan. Sometimes you just need to breathe, trust, let go, and see what happens." — Mandy Hale
"Hardships often prepare ordinary people for an extraordinary destiny." — C.S. Lewis
"You just can't beat the person who never gives up." — Babe Ruth
"If you fell down yesterday, stand up today." — H. G. Wells
"Good, better, best. Never let it rest. Till your good is better and your better is best." — St. Jerome
"Never limit yourself because of others' limited imagination; never limit others because of your own limited imagination." — Mae Jemison
"Infuse your life with action. Don't wait for it to happen. Make it happen. Make your own future. Make your own hope. Make your own love. And whatever your beliefs, honor your creator, not by passively waiting for grace to come down from upon high, but by doing what you can to make grace happen yourself, right now. Right down here on Earth." — Bradley Whitford
"God changes caterpillars into butterflies, sand into pearls, and coal into diamonds using time and pressure. He's working on you too." — Rick Warren
"Believe you can and you're halfway there." — Theodore Roosevelt
"Life has got all those twists and turns. You've got to hold on tight and off you go." — Nicole Kidman
"When something is important enough, you do it even if the odds are not in your favor." — Elon Musk
"In order to succeed, we must first believe that we can." — Nikos Kazantzakis
"Never bend your head. Always hold it high. Look the world straight in the eye." — Helen Keller
"The most effective way to do it, is to do it." — Amelia Earhart
"He who has a why to live can bear almost any how." — Friedrich Nietzsche
"What you get by achieving your goals is not as important as what you become by achieving your goals." — Zig Ziglar
"It is time for us all to stand and cheer for the doer, the achiever — the one who recognizes the challenges and does something about it." — Vince Lombardi
"If you have made mistakes, there is always another chance for you. You may have a fresh start any moment you choose, for this thing we call 'failure' is not the falling down, but the staying down." — Mary Pickford
"Start where you are. Use what you have. Do what you can." — Arthur Ashe
"When you have a dream, you've got to grab it and never let go." — Carol Burnett
"With the right kind of coaching and determination you can accomplish anything." — Reese Witherspoon
"Expect problems and eat them for breakfast." — Alfred A. Montapert
"It is our attitude at the beginning of a difficult task which, more than anything else, will affect its successful outcome." — William James
"If you're not making mistakes, then you're not making decisions." — Catherine Cook
"Life is like riding a bicycle. To keep your balance, you must keep moving." — Albert Einstein
"You learn something out of everything, and you come to realize more than ever that we're all here for a certain space of time, and, and then it's going to be over, and you better make this count." — Nancy Reagan
"Nothing is impossible. The word itself says 'I'm possible!'" — Audrey Hepburn
"You are never too old to set another goal or to dream a new dream." — C.S. Lewis
"We may encounter many defeats, but we must not be defeated." — Maya Angelou
"Setting goals is the first step in turning the invisible into the visible." — Tony Robbins
"It isn't where you came from. It's where you're going that counts." — Ella Fitzgerald
"I will love the light for it shows me the way, yet I will endure the darkness because it shows me the stars." — Og Mandino
"Keep your eyes on the stars, and your feet on the ground." — Theodore Roosevelt
"The only person you are destined to become is the person you decide to be." — Ralph Waldo Emerson
"Do you want to meet the love of your life? Look in the mirror." — Byron Katie
"We must be willing to let go of the life we planned, so as to have the life that is waiting for us." — Joseph Campbell
"Let us make our future now and let us make our dreams tomorrow's reality." — Malala Yousafzai
"If you look at what you have in life, you'll always have more." — Oprah Winfrey
"Never, never, never give up." — Winston Churchill
"What lies behind us and what lies before us are tiny matters compared to what lies within us." — Ralph Waldo Emerson
"Life is not easy for any of us. But what of that? We must have perseverance and, above all, confidence in ourselves. We must believe that we are gifted for something and that this thing, at whatever cost, must be attained." — Marie Curie
"Make up your mind that no matter what comes your way, no matter how difficult, no matter how unfair, you will do more than simply survive. You will thrive in spite of it." — Joel Osteen
"When one door of happiness closes, another opens, but often we look so long at the closed door, that we do not see the one that has been opened for us." — Helen Keller
"We can't be afraid of change. You may feel very secure in the pond that you are in, but if you never venture out of it, you will never know that there is such a thing as an ocean, a sea. Holding onto something that is good for you now, may be the very reason why you don't have something better." — C. JoyBell C.
"People will forget what you said, people will forget what you did, but people will never forget how you made them feel." — Maya Angelou
"It takes a great deal of courage to stand up to your enemies, but even more to stand up to your friends." — J.K. Rowling
"The past is where you learned the lesson. The future is where you apply the lesson. Don't give up in the middle." — Dale Carnegie
"Sometimes the strength within isn't a big fiery flame for all to see. Sometimes it's just a tiny spark that whispers ever so softly, 'Keep going; you got this.'" — Unknown
"Success doesn't come from what you do occasionally. It comes from what you do consistently." — Marie Forleo
"The one who falls and gets up is so much stronger than one who never fell." — La La Anthony
"Storms don't last forever." — Unknown
"The struggle you're in today is developing the strength you need tomorrow." — Robert Tew
"One day you will tell your story of how you overcame what you went through, and it will be someone else's survival guide." — Brene Brown '
"Comparison kills creativity. There is room for you. Nobody can do it with your voice, with your experience, with your insight." — Karen Walrond
"Everything you've ever wanted is on the other side of fear." — George Addair
"After all this is over, you're going to come out stronger than ever before." — Unknown
"I'm thankful for my struggle because, without it, I wouldn't have stumbled across my strength." — Unknown
"Being positive in a negative situation isn't naive. It's called leadership." — Unknown
"Do not compare your insides with someone else's outsides." — Unknown
"You are powerful, beautiful, brilliant, and bold." — Unknown
"Those who matter don't mind, and those who mind don't matter." — Bernard Baruch
"Happiness is only available with total acceptance of who you are, including all your fears, worries, and anxiety. It will be there for you when you can see your own inner beauty. You cannot achieve happiness without using your past, your flaws, insecurities, and imperfections in a positive way. It is about letting go and detaching from unhealthy people, ideas, and lifestyle choices, and replacing them with interdependent, pro-active ways of thinking and responding." — Lucinda Bassett
"We want to add beliefs that build us up, encourage us, and support us. We want beliefs that are 'the wind beneath our wings', causing us to soar and to be all we can be." — Barbara Lucas, Put Hand to Plow
"You're allowed to scream. You're allowed to cry, but do not give up." — Unknown
"Strength doesn't come from what you can do. It comes from overcoming the things you once thought you couldn't." — Rikki Rogers
"A word of encouragement during a failure is worth more than an hour of praise after success." — Unknown
"Press on — nothing can take the place of persistence. Talent will not; nothing is more common than unsuccessful men with talent. Genius will not; unrewarded genius is almost a proverb. Education will not; the world is full of educated derelicts. Perseverance and determination alone are omnipotent." — Calvin Coolidge
"Sometimes when you are in a dark place, you think you have been buried, but actually you have been planted." — Christine Caine
"Encourage yourself, believe in yourself, and love yourself. Never doubt who you are." — Stephanie Lahart, Overcoming Life's Obstacles
This article was originally published on