#Striketober Is In Full Swing––Here's What That Means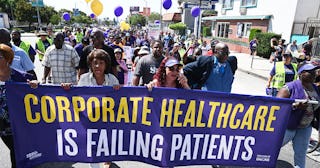 Robyn Beck/AFP/Getty
Contrary to popular belief, the unemployment rate in the U.S. continues to fall and more employers are raising wages in an effort to retain workers since the pandemic has begun. And yet, more and more employees are deciding that the time to go on strike is now. TIME reports that in the first five days of October alone, there were 10 strikes in the U.S., including workers at Kellogg plants in Nebraska, Michigan, Pennsylvania, and Tennessee; school bus drivers in Annapolis, Maryland; and janitors at the Denver airport. That doesn't include the nearly 60,000 union members in film and television production who nearly unanimously voted to grant their union's president the authority to call a strike.
You're probably wondering why, with more jobs and supposedly more money, employees have decided NOW is the time to walk out. To make a long answer as short as possible, they're sick of the bullshit. These low wage workers which were deemed essential at the start of the pandemic are having a collective "come to Jesus" moment, if you will. They've worked all of this time with low pay and high risk. With employers desperate to retain the workers that they have, employees are realizing that at this moment they have the upper hand.
https://platform.twitter.com/widgets.js
Who's on strike (or is planning to) during #striketober?
Unions representing more than 100,000 workers have gone on (or are planning to go on) strike this month. Among these strikes are:
10,000 workers at farm equipment maker John Deere walked out over pay and conditions.
More than 24,000 health care workers at Kaiser Permanente
About 60,000 Hollywood workers, members of the International Alliance of Theatrical Stage Employees (were threatening to strike, but have since reached an agreement)
700 nurses in Massachusetts, 2,000 New York hospital workers and 1,400 Kellogg factory workers in Michigan, Nebraska, Pennsylvania and Tennessee have already gone on strike this month.
Why the increase in strikes in the U.S. now?
After over a year and a half of balancing the pandemic, work, family and health most employees are tired and deserve more. Many of the country's essential workers have worked through the pandemic with staff shortages, no increase in pay and having to create a balancing act between work and caring for their family.
Meanwhile, corporate profits have increased and billionaires are just getting richer (SHOCKER, RIGHT?!).
Our essential workers have been overworked and underpaid long before now, but with working through the pandemic, many are tired of the crappy conditions. As mentioned in this article from TIME, "[F]rom 1979 to 2019, wages for the lowest-paid decile of workers rose 3.3% when adjusted for inflation, while wages for the top 5% of workers rose 63.2%, according to the Economic Policy Institute, a left-leaning think tank."
Employees have been showing up this entire time, putting themselves in danger working through the pandemic – and for what? I mean, can we really blame them for being tired? Loads of these workers are just barely making a living wage.
"Workers are fed up, wiped out, done-in, and run down. In the wake of so much hardship, illness and death during the past year, they're not going to take it anymore," Richard Reich, former U.S. Secretary of Labor, wrote for The Guardian. "What's really going on is more accurately described as a living-wage shortage, a hazard pay shortage, a childcare shortage, a paid sick leave shortage, and a healthcare shortage. Unless these shortages are rectified, many Americans won't return to work anytime soon."
As someone who hasn't returned to work since leaving during the peak of Covid, I can't say I'm rushing back into the office any time soon either. And countrywide, people are being inspired to go after what they deserve. Let's hope that these strikes all over the U.S. inspire big corporations to value the employees who have continued to remain loyal to them throughout this sucky time. We all have enough to worry about right now, we shouldn't have to choose between our health, happiness, and earning enough to survive.
This article was originally published on