I've Been Working From Home With Kids For 6 Months, And It Has Gotten Better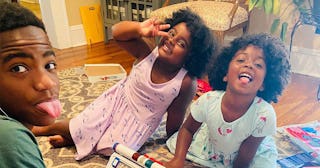 Nikkya Hargrove/Instagram
I am not sure how much more the calendar on my iPhone can take. I am pretty certain it is as exhausted as I am, overworked, and incapable of shutting off (just like me). With three kids, a home, a partner, and a dying dog, there is so much to keep straight that even lunchtime is literally added to my calendar.
As a working mom, these days which seem to fly by look nothing like they did six months ago. I have the same conflicts so many other working moms have: trying to fit "it" all into the day, managing the kids, giving them attention, being a good (retainable) employee so I can continue to support my family, and the added guilt that I am not doing any of my current tasks all that well. Achieving an equal balance is impossible.
Some days I feel like I've failed at something, and that is true. Some days, I feel successful just because everyone is fed, clean, and I managed to get through a work call without being interrupted. My house is still a mess. The basket of laundry doubles as decorative art, since it never seems to leave the spot I put it in. And making dinner is now where I tend to find joy, jazzing it up a bit by following recipes from some of my favorite cookbooks like Chrissy Teigen's first cookbook, Cravings: Hungry for More and Madhur Jaffrey's World Vegetarian.
Over the last six months, I've learned so much about what I can (and can't) handle, reinstated the word "no" to wield at people who I cannot accommodate, released some of the tension which squarely pegged me as a Type-A kind of mom, and carved out time to celebrate even the most minor wins of the day (like getting my kids to make their beds and remember to brush their teeth). I do find comfort in the motto that now easily rolls off of my tongue these days to anyone who will listen: "We are in this together." It feels a little easier to manage knowing that other moms are waking up across America feeling just like me: exhausted, overwhelmed, and trying to figure out how to keep a small piece of sanity.
I have a full-time job as the director of programs at a small New York-based nonprofit. I have another full-time job at home as a mom of three. And I wake up every day intending to give my all to each of my demanding roles. In the last six months, I've grown to value the time I spend checking in with my boss, who is also a mom, because we spend the first part of our time together discussing the realities of our respective working moms situations before we talk business. Granted, she and I — especially given our line of work — are naturally empathetic people, but this pandemic has helped me to take down the walls of feeling like I needed to be the vision of "professional" that I created in my mind all of the time.
I didn't need to say the right thing every time, or show up to every meeting with a notebook in hand ready to take notes, or forego my lunch break to be sure to make it to the train to start my evening commute; we are now on the same playing field. We are in this together.
In an interview with CNN, Cécile Alper-Leroux, vice president of product and innovation for software company Ultimate Kronos Group, says, "This crisis has made it clear how crucial it is to bring a deep sense of empathy and understanding to the workplace." Nothing like a worldwide pandemic to remind us of how the workplace should have always been: a place which values employees for their contributions and acknowledge the sacrifices they make to show up and work every day (sacrifices like not being able to sign your kid up for after school swim classes because of your work schedule).
For me, it's taken me the last six months to figure out how to manage it all. I now feel like I've turned a corner in being able to emotionally and mentally handle everything associated with working and parenting in the same space. Self-forgiveness and releasing the "mom guilt" is a big part of how I've managed to accept our situation and move forward with a great deal of hope, no matter what the next six months throws our way.
I am a mom and an employee who wants to do well in both arenas. And if you're like me, and want to consistently improve to be more productive, to show your value, to remain at the top of your game (s) — no matter if the players are colleagues or your kids — what you must do is take a coffee break. Take the time to sit, watch your kids play, and log off of work email to recharge. When you plug back in, turn on that television and let your kids eat lunch and be electronically entertained for an hour or four so that you, as the worker bee, can commit the time you need to your job. Keep a running to-do list of tasks you "must" get done on that particular day and a separate list of items you can move to the next day if need be. Learning to let things go, or at least move things to a lower priority level, is freeing and it's what is getting me through.
This article was originally published on