Raising The Bar: We Need More Family-Friendly Companies Like These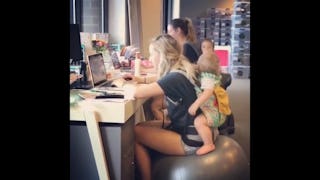 Latched Mama / Facebook
We all know that parental leave is basically a joke in America. Even those of us who get more than a week or two off after having a baby usually have to take leave without pay — or, if we're really lucky, with partial pay. Although more and more companies are starting to offer paid leave (bless your hearts, Facebook, Netflix, and Google), the majority do not, leaving many parents no choice but to either go back to work too soon or take time off without pay — and sometimes risking being laid-off as a result.
But even among the jobs out there that do offer decent parental leave, most are not especially accommodating to working parents when they return. We all know that good childcare is hard to find, and that it's through-the-roof expensive (sometimes costing more than rent!).
And even if you are able to secure a good place for your child to be while you work, what about days that your child is sick? What about school vacations? What about wanting to get home each night to have dinner with your family?
Folks, we have a whole hell of a lot of work to do when it comes to making the workplace friendlier to working parents. It is unconscionable that so many working parents — particularly mothers — are left with almost no decent choices when it comes to working. So many of us are damned if we do and damned if we don't, and we end up suffering both emotionally and financially as a result.
It's no wonder that as much as 43% of working moms end up quitting their jobs and staying home with their kids. Of course, there is nothing inherently wrong with this choice. But for many of us, it is not a choice, exactly, but a necessity because there are no other viable options out there for us to make a decent living while providing affordable and acceptable care for our children, and having a schedule that actually allows us to see them.
The good news is the tide seems to be turning, albeit at a snail's pace. Take the wildly popular outdoor clothing company, Patagonia. Not only do they offer 16 weeks of paid leave for moms (and 12 weeks for dads and adoptive parents), but they also offer on-site, high-quality child care for all of their workers. Employees are even given the option to meet their kids for lunch. Moms are allowed to breastfeed their babies while working and can even nurse at meetings. It's amazing.
And this should come as no surprise to anyone, but in the five years since these initiatives were implemented at Patagonia, they have retained 100% of moms who have given birth while employed by them.
Holy Batman, that's impressive. And it's what all companies should be working toward, not just in terms of employee satisfaction, but in terms of total company efficiency and rigor. These policies benefit the business too, after all.
But you don't have to be a huge multimillion-dollar company to implement a family-friendly working environment. Just the other day, I stumbled upon an awesome video posted on the Facebook page of Latched Mama, a mother-owned company that makes adorable (and affordable) nursing wear.
The video depicts a couple of energetic, badass mamas working at computers while bouncing on exercise balls while wearing their babies on their backs in baby carriers.
Relatable much?
Let's just say that whether or not you've done this sort of thing while working at an office, we have all been there with our kids — getting shit done while soothing and carrying a fussy, needy kid. And the thing is, although it's not always easy or ideal, we moms are fully capable of doing stuff like that. We are badasses.
And more and more companies should start wising up to that fact.
Scary Mommy was able to catch up with Melissa Wirt, owner and founder of Latched Mama, to find out how she accommodates working moms at her business. Wirt tells Scary Mommy that she started Latched Mama soon after her second baby was born three years ago. Wirt started as a WAHM, literally filling orders from her dining room, and even as the company grew and she added a third baby to the mix, she always worked with her kids in tow.
Soon enough, Wirt started hiring assistants, and eventually took a leap of faith and hired two fellow moms, both of whom she allowed to bring their babies to work.
"I didn't know what to expect," Wirt tells Scary Mommy. "But it was honestly one of the best decisions I have made as a business owner. Watching them grow into motherhood and bond with their babies was empowering for me, and watching their happiness spread to other moms through the internet was infectious."
As of now, Wirt has hired a total of seven working moms, and she says that there are babies at the warehouse literally all the time. Here is how she describes it:
"Start times are flexible according the morning nap schedules, and my employees are allowed to stop and attend to their babies whenever it is needed. It is a relationship that is based on trust. We have everyone sign a liability waiver, but we don't have many rules other than that. I ask that they pick up after their babies at the end of the day — I'd rather crackers all over the floor and a giant toy mess and orders going out than a spotless warehouse every moment of the day."
How completely amazing is that? As a former nap drill sergeant, I am completely in awe of a company that allows parents to work around their kids' sleep schedules. Seriously, only a mother-owned company would get that. And yes to all the other stuff: Mothers are totally capable of working and attending to their kids at the same time. That's just what we do, and it's pretty incredible that Wirt is recognizing and nurturing that.
So take note, America. Take note, everyone. Things do not have to be this way. Mothers who want and need to work should not be left with zero feasible options.
As Wirt so eloquently put it: "There are so many talented moms choosing to stay at home because of child care costs or because they feel like they should be with their babies. But it doesn't have to be an all or nothing type of thing, with a little patience and trust, those moms could be making a great difference in the workplace, no matter the industry."
So thank you Patagonia and Latched Mama. You are excellent examples of how companies can make it work for working moms. And it would benefit us all to get a move on this sort of thing, in some capacity or another, everywhere.
Really, get on it, all the rest of you. The time is now. It was yesterday, actually. Let's do this thing.