Today Is UN's 'World Day Against Trafficking In Persons'––We Need To Be Talking About This (And Spreading The Word)
by Dris Wallace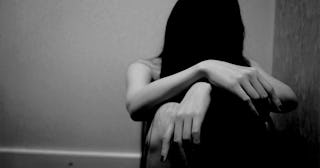 Kenko Ito/EyeEm/Getty
Did you know that 10.1M victims of human trafficking are children? Children account for 27% of all the human trafficking victims in the world, and two out of every three child victims are girls. 21% of victims of sexual exploitation were children.
I'm not sure why child trafficking is such a taboo subject? As a mother with a social media platform, I feel an obligation to help spread awareness. I live in California, one of the top destination states for trafficking human beings; in fact, The National Human Trafficking Hotline reports that they received more calls from California in 2018 than anywhere else. It sickens me that the media and celebrities, some of whom are mothers and fathers, are not talking more about this issue.
You don't have to be a parent to understand how evil this is; you just have to be a freaking human to see that we have a massive problem here. When you are given a platform like social media, I feel that you automatically have an obligation to bring awareness about social issues, especially something as horrendous as child sex trafficking.
Social media platforms have helped bring valuable awareness to so many important things around the world, and now it's time to turn our collective attention to this issue. Human trafficking is a multi-billion dollar criminal industry. These sick people are selling children in exchange for sex. I don't know what else I have to say to convince you that we need to be the voice of these babies (and women) that need us.
During the last few weeks, I have been educating myself more about the increase in child slavery since COVID; The Polaris Project, who operates the National Human Trafficking Hotline, found that the number of crisis trafficking cases handled by the hotline increased by over 40% in the month following shelter-in-place orders compared to the prior month.
What's really scary is that human trafficking truly is happening in our own backyards. For the most part, it isn't a case of an unsuspecting victim being kidnapped, the way we might think; traffickers no longer need to snatch people off the streets when they can figuratively creep into their lives via technology instead.
Though any kid can fall prey, it's usually the most vulnerable being lured away by enticing promises. "[T]he real story is that while it can happen to anyone available evidence suggests that people of color and LGBTQ+ people are more likely to be trafficked than other demographic groups. That's not a coincidence," says the Polaris Project's website. "Generational trauma, historic oppression, discrimination and other societal factors and inequities create community-wide vulnerabilities. Traffickers recognize and take advantage of people who are vulnerable in certain ways."
These kids are often just trying to escape from the grim realities of their lives; many live in abusive or poverty-stricken households, have caregivers or family members with substance abuse issues, or have a history of domestic or sexual abuse. But though these vulnerable kids may be easier targets, make no mistake about it: Even children from households with none of these issues can be coaxed into unsafe situations by online "friends" who have gained their trust, unbeknownst to their parents. Bottom line, if a child suddenly has "gifts" that are too expensive than what they can realistically afford, is becoming too close with a person they know strictly from the Internet, or forms a fast-moving relationship with someone that is years older, there's cause for concern.
So how can we spot the signs of human trafficking? It can be tricky, because individuals being trafficked come from all sorts of ethnicities and backgrounds; there is really no telltale "look." But according to the U.S. Department of State — though they do admit that it's "not an exhaustive list" — there are a few key indicators to watch out for:
Poor living conditions, perhaps with multiple people in a cramped space
An inability to speak to the individual alone
The person is acting submissive or fearful
Answers seem scripted or coached
Signs of physical abuse
For adults, living with an employer (especially if that employer is holding the person's identifying documents)
Spotting child trafficking victims can be even tougher, but most of the Department of State's indicators apply. In addition to those, the Children's Hospital of Philadelphia Research Institute provides a few more that can be more specific to kids, among them:
Not being enrolled in school, or being frequently absent
Having a prepaid cell phone
Having unexplained large amounts of cash or expensive clothing/jewelry
Visible signs of abuse or neglect, with a reluctance or unwillingness to explain
Avoidance of social interaction
It's important to note that the presence (or absence) of any of these "red flags" aren't proof of human trafficking, because each trafficking situation looks different. But these indicators can be a good baseline.
This is a widespread problem that we need to not only look out for, but speak up about. I have started following Operation Underground Railroad on Instagram, an organization whose main focus is rescuing children from slavery. July 30th is World Human Trafficking Awareness day, wherein Operation Underground Railroad is encouraging everyone to speak up to help bring awareness. Their goal and hope is that the government will take interest in these victims.
Here are a few ways to join the RISE UP FOR CHILDREN movement with Operation Underground Railroad:
Get loud in your community (visit ourrescue.org/rise up for locations across the US)
Get loud from home:
On social media. Post a picture of your support. Tag @ourrescue and use the hashtags: #RISEUPFORCHILDREN #GETLOUD #EndHumanTrafficking
Fill your home and community with blue balloons as a representation of bringing awareness and hope to this issue. The color blue represents child abuse awareness and has been recognized as the universal color for human trafficking.
Operation Underground Railroad is by no means the only organization to support; there are many across the U.S. dedicated to this cause. The Child Welfare Information Gateway has an extensive and continually-updated list of organizations that prevent, and intervene in, human trafficking.
Additionally, the National Human Trafficking Hotline operates 24 hours a day, seven days a week. The toll free hotline number is 1-888-373-7888 — or you can text 233733 to get help for yourself, to report any activity that may be related to human trafficking, or to help someone else. Please do research in your local communities about how you can help spread awareness on this horrible issue.
Let's bring these babies home and prevent other children, women, and men from ever having to go through this. Children deserve to have a childhood. These victims deserve their freedom. Their captors deserve swift punishment. End of story.
This article was originally published on