Every 40 Seconds, A Person Loses Their Life To Suicide
by Leah Groth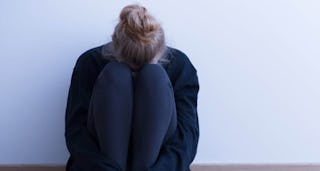 Getty Images Plus
WHO has released some shocking, new statistics ahead of World Suicide Prevention Day
While the number of people who die by suicide is declining overall, the World Health Organization just released a startling statistic: every 40 seconds a life is lost to suicide somewhere in the world. These numbers add up to about 800,000 people a year — accounting for more lives lost than from malaria, breast cancer, war and homicide. They have officially declared suicide a "seriously global public health issue."
"Every death is a tragedy for family, friends and colleagues. Yet suicides are preventable," WHO Director-General, Dr. Tedros Adhanom Ghebreyesus, said in a statement. "We call on all countries to incorporate proven suicide prevention strategies into national health and education programs in a sustainable way."
According to the UN health body, between 2019 and 2016 the global suicide rate decreased by 9.8 percent – in every region but the Americas. They also pointed out that only 38 countries even had suicide prevention strategies in place.
Some of the scariest statistics concerned younger people. A previous study found that the number of children attempting suicide has doubled since 2007, and the WHO's latest findings are even more grim. "Suicide was the second-leading cause of death among young people aged 15-29 years, after road injury," their statement said. "Among teens aged 15-19 years, suicide was the second-leading cause of death among girls (after maternal conditions) and the third-leading cause of death in boys, after road injury and interpersonal violence."
The highest rates of suicide occur in Africa, Europe and Southeast Asia – 10.5 per 100,000 people. They also revealed that worldwide, more men are taking their own lives than women — 7.5 suicide deaths per 100,000 women and 13.7 suicides per 100,000 men — in every country but Bangladesh, China, Lesotho, Morocco, and Myanmar.
Socioeconomics also come into play with the worldwide suicide rate. 79 percent of the world's suicides occurred in low- and middle-income countries, but high-income countries had the highest rate, at 11.5 per 100,000 people. And, in high income countries, three times as many men die by suicide as women. In low- and middle-income countries, the rate is more equal.
Because September 10 is World Suicide Prevention Day, there is no better time to discuss solutions to the suicide epidemic. According to the WHO there are concrete things we can do to reduce the loss of life. These include limiting access to pesticides — which are surprisingly one of the most common suicide methods along with hanging and firearms. Obviously, access to firearms directly correlates with the suicide rate. For example, living near a gun shop puts you at a higher risk of taking your own life.
The WHO also urges the importance of identifying people at risk early and helping younger people develop skills to cope with life stresses. We also need to talk about suicide in a responsible way — and this includes the press. So many studies have been conducted finding a link between the "glamorization" of suicide — especially when it involves a celebrity — and the suicide rate. For example, describing suicide methods or making references to somebody's pain being "relieved" because they took their life can be influential in someone else mimicking the act.
This World Suicide Prevention Day, let us all open up the discussion about suicide with our loved ones. It may help someone more than you could ever imagine.