Worst Wedding Guest Ever Upstages Bride And Groom, And Twitter Isn't Having It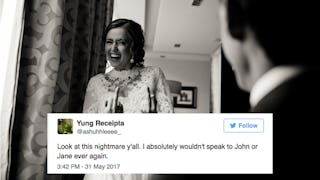 Image via Shutterstock
Wedding officiant from hell upstages bride and groom with his own proposal
With wedding season upon is, it might be a good time for a little refresher on basic wedding etiquette. First, don't upstage the couple. Second, don't be that guy/gal. (You know the one.) And third, don't upstage the couple. Yep, it's that important. Everyone knows this. Well, everyone except the guy who thought it was okay to propose to his girlfriend in the middle of the ceremony he was officiating.
That's right, Dude thought it would be okay to propose during someone else's big day — smack dab in the middle of the ceremony he was officiating. Dude. Seriously, WTAF were you thinking?
The bride wrote about this ridiculous stunt in the "Dear Prudence" column in Slate.
"My husband and I started dating, got pregnant, had a child, moved in together, bought a house, and got a dog in that order," she wrote. "We've done really well for ourselves and finally reached a point where we could afford a huge blowout wedding to celebrate our lives with everyone we know and love."
By all accounts, the stage was set for a picture-perfect wedding day. Everyone was happy, families were overjoyed, and the bride said her mom may have said hallelujah a few dozen times. The couple even asked Hubby's best friend, "John," to be the officiant. How sweet, right?
Ummm…nope.
Turns out Hubby's best friend was a bit lacking in the manners department, and didn't get the memo that this is the couple's Big Day, not his. Not only did this jackass "John" propose to his girlfriend "Jane" in the middle of the vows, he also used his toast to swoon over his new-fiancé with nary a mention of the newlywed couple. He even asked the band for a special dance for him and Jane during the reception, and the bride said the videographer cut to the newly engaged several times during the inappropriate-as-hell proposal.
Awww, hell no.
In her letter to Mallory Ortberg (aka Prudence), the bride admitted she was seething about John's behavior, and that she and her husband hadn't spoken to him since the wedding. She asked the popular advice columnist for her take.
While Ortberg suggested the couple take a mature and reasonable route, and "[have] a difficult conversation with a longtime friend who did something selfish and self-absorbed on your wedding day," Twitter was having none of this dude's jackassery. Most people had no qualms about saying buh-bye to John and his weak ass friendship.
[tweet
[tweet
Some folks even admitted that if they were in the bride's sequined Manolos, things would have gone down a bit differently.
[tweet
[tweet
Regardless of whether the friendship ends or not, reprisals are clearly in order.
[tweet
[tweet
[tweet
[tweet
Clearly People of Twitter have far more sense than John. The only thing we can say is, bless his selfish and clueless heart.