Would You Trash the Dress After a Divorce?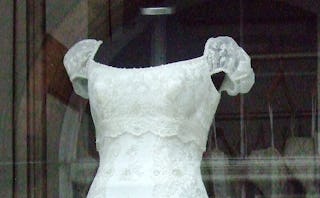 If you do a quick search for Trash the Dress on Pinterest, you'll find tons of ideas, and the only prevailing guideline seems to be the messier the better. Because why just trash your dress when you can trash your dress spectacularly? By caking yourself in mud, tagging your gown with graffiti or channeling Katniss Everdeen and engulfing yourself in flames. Don't try this at home, kids! The odds will not ever be in your favor.
What I didn't know—until I watched Lisa Edelstein paintball Abby's wedding dress on the season finale of Girlfriends' Guide to Divorce—was that divorced women have now co-opted this idea and made it their own, epically demolishing their suddenly obsolete wedding gowns and everything they represent.
"Not only do 'trash the dress' divorce photo shoots provide an outlet to unleash pent up anger, but also an opportunity to get pampered with professional hair and makeup services," writes Joelle Caputa, author of the book Trash the Dress: Stories of Celebrating Divorce in Your 20s. "After your physical and emotional transformation is complete, you'll feel way hotter than you ever did when you were married. The resulting photos will be your sweet revenge."
So. Freaking. Awesome. And then there's this: While these TTD divorce shoots are usually one-and-done scenarios, Dayna Rumfelt, a recently divorced 35-year-old from Alaska, is making headlines for putting her dress through seven months of slaughter, in an effort to inflict upon it the same level of damage she felt from her divorce. With the help of family and friends, Rumfelt wheeled her dress through a roller derby, submerged it in a lake, shot it up with paintballs, and slathered it in silt and mud. Still, the thing endured.
But since hell hath no fury like a woman in an expensive dress with a shitload of determination, Rumfelt finally decided to set the gown on fire in a blazing backyard bonfire. "I felt such a sense of relief watching it burn," she said. "Almost all my negative energy had transferred to the dress over time and it had made me so sad to see it. I slept really well the night of the bonfire."
This article was originally published on