This Still Of Disney Princesses In Loungewear Is Giving Everyone Life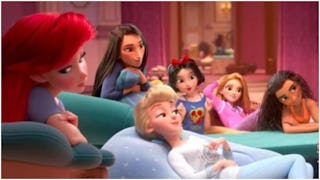 Image via Entertainment Weekly/Disney
Wreck-It Ralph 2 features modern-day Disney princesses and the internet can't handle it
The internet united this morning over one incredible still from the upcoming animated film Wreck-It Ralph 2. In it, modern-day Disney princesses lounge around together in their PJs, eat popcorn, and sip on milkshakes. And yes, the image of Elsa wearing a cozy sweater that reads "Just Let It Go" will bring you a pure joy you never knew existed.
Fourteen of Disney's most iconic princesses will make an appearance in the upcoming Wreck-It Ralph 2 film. They'll be introduced to racer/fellow princess Vanellope von Schweetz (voiced by Sarah Silverman), friendships will form, and lots of adventures will unfold.
But first, we need to take a second to admire how completely amazing these gals look in 2018. Mulan is looking cool as hell in jeans and Converse. Snow White is rocking her red ribbon headband and a shirt that reads "Poison" (#classic). Ariel is looking appropriately moody with some very cute side-swept bangs.
People were having many, many ~feelings~ about this picture. Everyone agreed that all of the princesses are serving up some serious lewks, and a few people said they might actually venture to the theater just to see their animated girls hanging together in loungewear.
Also, a whole lot more people were really feeling some romantic vibes between Mulan and Cinderella. And Cinderella and Elsa. I mean, it's about time we got some LGBTQ representation in a Disney movie.
https://twitter.com/jetpack/status/1027683872622952449
Meanwhile, Vanellope gets her own Disney princess treatment – and she's breaking convention along the way.
"I'm very proud of my character being a Disney princess with a human waist. I love that she is a princess but wears, like, a hoodie, and she inspires them all to wear comfortable clothes," Silverman told Entertainment Weekly. "It didn't really cross my mind that I'm a Disney princess — like, that I'm canon— until we all met this year, and I got a little choked up. It's corny, I know, but I was like, 'Oh shit, right. I'm this Jewish, comfortable-clothes-wearing Disney princess. How cool is that?"
You can hang out with all your favorite princesses when Wreck-It Ralph 2 hits theaters November 21st. In the meantime, can the studio please start selling all of these outfits immediately? Pretty sure we are all really want to rock that cute baby blue "Just Let It Go" sweater.
This article was originally published on