Wuhan Kids Disable App That Allows Them To Do Schoolwork While Quarantined
by Julie Scagell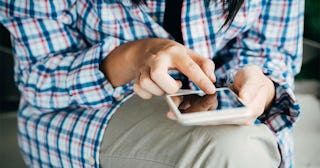 Porapak Apichodilok/Pexels
Quarantined kids in Wuhan gave their homework app one star ratings, removing it from App Store
Leave it to kids to make the best out of a terrible situation. Kids who've been quarantined in Wuhan, China and forced to attend school online figured out an ingenious way to get out of their homework. This time, it involved taking down a homework app — one bad review at a time.
COVID-19 is continuing to make headlines around the globe as hundreds of new cases are popping up every single day. The virus has already killed more than 3,800 people and infected more than 108,000 people, a large majority of those cases in Wuhan. As children at the epicenter cope with the severity of the situation, they provided a moment of levity everyone could use right now.
There is an app called DingTalk, a communication and management mobile app with over 100 million users in China, that kids are being asked to use so they can get lessons and homework remotely. Kids being the technology-advanced geniuses they are figured out a way to beat the system by getting it taken off the App Store.
"Students are meant to sign in and join their class for online lessons; teachers use the app to set homework. Somehow the little brats worked out that if enough users gave the app a one-star review it would get booted off the App Store," The London Review of Books noted. "Tens of thousands of reviews flooded in, and DingTalk's rating plummeted overnight from 4.9 to 1.4. The app has had to beg for mercy on social media: 'I'm only five years old myself, please don't kill me.'"
That is some epic level homework avoidance. Seriously, leave it to kids to band together for the common good and take down an entire technology all in the name of not doing schoolwork. They should all pass with flying colors for showing innovation, creativity, and teamwork.
Schools, workplaces, and events in many cities around the world are being canceled to help protect against the spread of COVID-19, forcing children and their parents to stay home. Without knowing when things may open again, teachers and administrations are scrambling to figure out ways students won't fall behind from an extended absence. A homework app seemed like the perfect solution — until you factor in the hoops kids will jump through to get out of studying.
What's even more entertaining is the reasons kids were giving for their one-star rating. "My holidays!" a student's review on App Store reads, according to Reuters. "I love DingTalk, say no more, there is one star for you," said another. And my personal favorite: "I am giving you five stars, but in installments." Kids are the best.