These Thigh-High Uggs Are Peak Frump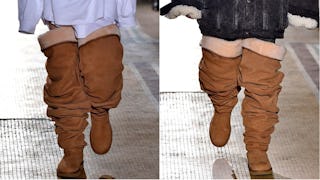 Image via Victor VIRGILE/Gamma-Rapho via Getty Images
These thigh high Uggs are the answer to your frumpy prayers
Hey there moms, if you're fresh out of fucks and searching for a way to let the world know (and also, to spend $1000 in order to let the world know) we've got what you need.
Thigh. High. Uggs.
We know you're probably already rolling your eyes while counting up all your sweet, sweet Kohl's cash, but hear us out. Just wearing these boots is all you have to do to tell everyone you see that you're done making an effort. You're embracing the frump. These boots will do more for putting out the "I Give Up" vibe than any yoga pants/huge cardigan combo (not that I'm hating, that's totally my daily uniform).
Behold. Thigh high Uggs. And a weird Princess Leia tunic? Whatever.
Side note: I know this is probably just ultra serious Super Model face but I also strongly identify with this as my I Am Alone At Target, Don't Fuck With Me face.
Anyway.
According to Vogue, Y/Project collaborated with Ugg at Paris Fashion Week Men's to bring us this slouchy, pricey, ridiculousness. And we're really feeling the lewk, modeled by both men and women. That's right — his and hers frumpy date night attire. Hell. Yes.
Aside from slaying date night, you could also totally do that kind of fishing where you just wade into the water and let your line go super far. I have no idea what it's called, but these boots would work according to that '90s Brad Pitt movie where he was constantly fishing. They also seem like appropriate attire for working in a cranberry bog. Frumpy meets versatility, ladies. The possibilities are endless.
"Putting on Uggs is like putting your foot in a warm pot of butter, and I thought why not elevate that and immerse your full legs!" says Ugg creative director Glenn Martens. "So we decided to design an Ugg boot that climbs up to the crotch and covers the whole leg."
Or we could just literally sit in a pot of warm butter. Mmmmm butter. Sorry, hang on. More full-length Uggs coming right at you.
They also come in black for all your fancy occasions where you also want to frump it up.
And we don't know if these are boots or pants, but we kind of want to sleep in them because COZY.
If these boots are your sloppy-dressing jam, plan to shell out $270 to $1,380 for a pair. A small price to pay for legs engulfed in comfy, warm butter frump.
H/T: Cosmopolitan
This article was originally published on