You May Be Eligible For A $358 Data Breach Payout From Yahoo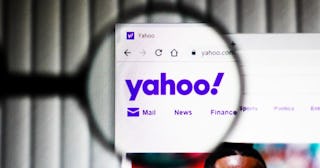 Rafael Henrique/SOPA Images/Getty
If you were one of the billions of people whose personal data was stolen in one of Yahoo's data breaches, you could be eligible for a cash payout
Between the years 2013 and 2016, three billion Yahoo accounts were impacted by two massive data breaches. While bank account numbers, credit card information, and other personal and sensitive financial data wasn't stolen — as was the case for more than 147 million people who were impacted by the brutal Equifax data breach in 2017 — emails and passwords were. If you are one of the many users impacted by one of Yahoo's data breaches, you could be eligible to score a pretty significant settlement to the tune of $358 or two years of credit monitoring services.
As part of the Class Action Settlement that could be approved by California courts, the internet giant will be forced to pay out a settlement fund of $117,500,000, either providing two years of credit monitoring services to those impacted, or a cash settlement if Settlement Class Members can verify they already have a monitoring service in place.
For example, if you can verify that you use a credit monitoring service and will continue to for the next year, you can submit a claim for $100. Hypothetically, if the number of claims are on the low side, you could get a payout a lot more – up to $353.
Additional funds will be levied out to those who can prove they suffered out-of-pocket losses, including loss of time, as well as Yahoo users who paid for advertisement free or premium Yahoo Mail services, with a cap of up to $25,000.
You are considered a member of the settlement class if you meet the following criteria:
You had a Yahoo account between January 1, 2012 and December 31, 2016
You received a notice about the data breaches
You reside in the United States or Israel
Claims can be easily filed at Yahoodatabreachsettlement.com. Once on the website, click on "FILE CLAIM." You will have a choice of an "ACCOUNT HOLDER CLAIM FORM," "PAID USER CLAIM FORM," "SMALL BUSINESS USER CLAIM FORM," OR "ISRAELI CLAIM FORM." You have until July 20, 2020 to make a claim.
Once you fill out a form, don't expect a quick check in the mail. According to CNN, the approval process could be a lengthy one of more than a year, as California courts have yet to approve the settlement. The final fairness hearing will take place in April 2020, and payments would likely go out sometime after that.
Also, if the Yahoo settlement class pool turns out to be quite sizable, as was the case with Equifax, your cash payout could be pennies. Additionally, before you check that box for a cash settlement, be prepared to provide proof that you do in fact have credit monitoring. Between this settlement and the Equifax one, it's just good common sense at this point to spring for a credit monitoring service.