Yelp Now Lists If Restaurants Are Actually Taking COVID Precautions Seriously
by Julie Scagell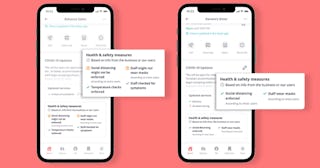 Yelp
Both customers and restaurants can now add information about a restaurant's COVID safety precautions
As certain states begin to lift restrictions on indoor dining (and others haven't closed at all), Yelp is trying to make it easier for those concerned about going out to eat during the pandemic.
The crowd-sourced review company already added a COVID safety section which allowed restaurants to communicate its health and safety measures taken during the pandemic. Now, it will also display customer feedback on whether a restaurant is actually taking those safety precautions they've advertised. Restaurants could always list their COVID-19 safety precautions on Yelp, but now customers can tell Yelp whether or not those safety precautions are actually being enforced.
"Starting today, Yelp will display if users observed, or did not observe, the enforcement of social distancing and staff wearing masks," Akhil Kuduvalli Ramesh, Yelp's head of consumer product, explained in a post on the site's official blog. This new feature "aims to instill confidence in consumers to continue supporting local businesses."
This information will appear as a statement under the "Health & Safety Measures" heading of a business's the COVID-19 section. Statement that may appear include things like: "Social distancing might not be enforced" or "staff might not wear masks."
"We've also added new service offerings and health and safety practices, including 'heated outdoor seating,' '1:1 sessions available,' and 'disposable or contactless menu' to help businesses communicate how they're continuing to adapt amidst changing health orders and consumer expectations."
Yelp is committed to regularly updating the information to give businesses the opportunity for improvement and reviews must be provided by a "consensus" of logged-in users. It will only allow users to comment on experiences within the past 28 days and, if the restaurant is a chain, only at one specific restaurant.
If they receive an orange question mark noting precautions are not taking place, Yelp will further clarify if the info is from "most users" or just "some users."
"At launch, the orange question mark is only displayed on a couple hundred businesses out of the millions of businesses on Yelp — making it relatively uncommon as of today," Ramesh wrote. "We've also implemented advanced technology to mitigate potential misuse of the feature."
In September, the company issued a report stating that about 60% of businesses that have closed during the coronavirus pandemic will never reopen, and restaurants have suffered the most.
The move comes as people continue to adjust to life during the pandemic. Many who have been opposed to eating out can now do more research to determine if they feel safe at certain places taking precautions seriously. Everyone wants to support local businesses but not at the risk of putting their lives, or the loves of others, in danger.
"As the pandemic continues to change our daily lives, we are relentlessly focused on addressing the needs of both local businesses and consumers by providing helpful and up-to-date information during these uncertain times," Ramesh ended the letter. "We remain committed to continuing to support our community through the pandemic by building solutions that help them stay connected."