Ylonda Gault Caviness, Author of 'Child, Please,' Was Queen of Mixtapes
by Melissa Kirsch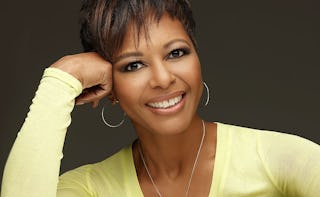 Keith Major
Parenting expert Ylonda Gault Caviness is the author of the new memoir Child, Please: How Mama's Old-School Lessons Helped Me Check Myself Before I Wrecked Myself. We recently caught up with Caviness and asked her to answer our Mid Questionnaire. We were delighted to discover she does a mean impression of Cookie from Empire, and Kelly Ripa is her secret BFF.
What's something you want to learn how to do?
I'd love to learn to play a team sport—any sport—really well. Good enough for a varsity letter. Do they have middle-aged varsity squads? I need to find out, because—unlike in my teen years—I've got it going on, at least in my head, now that I am older. And they say confidence is half the game. Right? The truth is, I was always a bit of a dork—which I attribute to my freakishly long arms. Seems to me, I could be really good at lay-ups at this point or fastballs or something or other. After 40-plus years, I am still waiting to grow into my body.
What's a trip you've been meaning to take?
Probably a trip to one of those fancy eyebrow threader-waxing people—because I have never had mine "done" and it seems incredibly decadent. Since Empire premiered on Fox, I have been nursing a serious, secret girl-crush on Taraji P. Henson's eyebrows. We're talking Love Jones proportions. I'm not sure my brows could even do what hers do. But I'm thinking that if I can learn to say, "Look here, Boo-Boo Kitty…" or some of her other signature lines, there is hope. And I am also practicing my "Cookie" strut. But aside from that I've long meant to take a trip with the kids to South Africa.
To whom do you owe a thank you note? (Here's your chance.)
All my teachers, who were largely pretty amazing, deserve thank you notes. But the one person who leaps to mind is a gentleman who sat in his lawn chair—seemingly 24/7 all year round—across the street from us, when my family moved in the '70s to a new all-white neighborhood. His name was Al and he had a squat build and he wore plaid shorts with sandals and dress socks and those glasses that turn dark in the daylight. The lawn chair was that kind with the aluminum frame and green-and-white plastic strips. He never said much to any of us kids—just sat there, crotchety-like, and smoked. A lot.
We moved into the house during the winter months, and when the Fourth of July came around, he walked across the street to our house to see me. We learned that he'd made a tradition of putting together this ad hoc parade, just along our short block and around the corner, with all the neighborhood kids. And he was adamant that I be a part of it. I was reluctant at first. But I soon got into the spirit, which was a good thing because he was not going to take "no" for an answer.
I wore a red, white and blue polyester halter-top. Its background was navy and it had strawberries and white dots sprinkled across my bony rib cage—I was around 9 or 10 and extremely lanky. He gave us all little flags to wave and afterward we all got huge bomb pops—which were also red, white and blue. Al would go back to his lawn chair, smoking and being his curmudgeonly self the next day. But every Fourth of July, he came alive. I should've thanked him for insisting that I join the parade. I haven't marched in one since that had so much energy. Well, actually I've never been in a parade, with or without spirit. But that's beside the point. He really wanted me to feel a part of something, I think. And it was his way of showing that we were welcome.
You're 12 years old. What are you doing on a Friday night?
I am watching Sanford and Son with my brother and sister on a black-and-white television with errant bunny ears. Probably, my older brother—boy genius—has jerry-rigged the wire hanger to ensure optimum reception. And he is fussing at my sister and me because he can barely hear the dialogue over our trash-talking, Esther-Fred impersonations—"You fish-eyed fool!" and "Shut up, Dummy." Being the oh-so-popular kid I was at the time, I probably relaxed afterward with a few volumes of our prized Encyclopedia Britannicas. I really enjoyed them, and we knew Mama had laid out a pretty penny for the set.
For whom did you make your first mix tape? What songs were on it?
My first boyfriend. His name was David, but everyone called him "Dollar Bill," which I thought made him so cool—that and the fact that he played the bass in his brother's band. They did lots of Earth, Wind & Fire covers, so the tape was heavy on all things Maurice White—"Reasons," "After the Love Is Gone"—with a smattering of Phil Collins ("In the Air Tonight") and Steely Dan. I am right now singing, "In the corner… of my eye…I saw you in Rudy's…" I had no earthly idea what they were talking about. But it seemed very deep and grown up at the time. Oh, and Michael Franks—the jazz guy—with that song, "The Lady Wants to Know…" I was more or less the queen of mix tapes. I LOVED a "quiet storm" groove. In college, I was a deejay on our campus radio station. I fancied myself very urbane and kind of above-it-all back then.
What's the one childhood story about you that you're sick of hearing at family gatherings?
I barely even remember the event, but it must be true because EVERYONE in my family loves to tell it: Apparently as a toddler, I was in the living room with Papa—my grand-dad who lived with us—when Richard Nixon came on the news. Now I spent almost every waking moment with Papa because my mom worked. I guess, from listening to Papa discuss politics and whatnot, I'd built up a pint-sized disdain for Ol' Tricky Dick.
So when he came on the screen, I walked right up to the TV, turned my backside toward the screen and patted it—as if to say, "Kiss my ass, Mr. President." Don't ask me where I'd have gotten that from or what on earth moved me to do it, but family folklore holds to the tale to this day. I'd made Papa so proud. He howled and retold the story over and over again.
What advice would you give your 25-year-old self?
"You are in your right place to get to your true place." In my late 30s, Maya Angelou said it to me—OK, actually it was to an audience of roughly 3,000, but I felt like she was talking directly to me. Can I give my 25-year-old self two pieces of advice? That younger me is a bit of a hot mess and needs all the help she can get. I'd also tell her: Stop it with the thigh obsession already! In 20 years you're going to wish your body looked this good!
What's the one thing you make better than anybody?
Just one? That's tough. I'd have to say, largely on account of my Buffalo roots, I am mean with the hot wings. Mine are crispy on the outside and tender on the inside—never dry. Most important, they are not sloppy wet or overly messy and they have a kick that makes you want to slap your mama through and through, not just from the sauce. There is a secret to the whole preparation phase that gets to that deep flavor. Naturally, I cannot reveal it, but I think somebody may have tipped off that sassy Popeye's lady.
What's your motto? Or if you don't have one, what's your theme song?
"Up Jumps da Boogie," courtesy of Missy Elliott, is the best way to get myself mentally prepared for what's ahead. Good or bad. Loosely translated, it's sort of saying: "Let's do this." Not a day passes that I don't call on Missy Elliott to rhapsodize the goings-on inside my head. If I'm at a loss for words, I use Missy for that too. I just repeat song phrases, like "Izzy, Izzy, Ah" and "Rat-a-tat-tat," which are totally nonsensical but somehow bring philosophical order to things. Or maybe they are like chants that help chill me out.
What's the one movie or TV show that makes you feel better?
A smile inevitably breaks out on my face when I happen to catch the first five or ten minutes of Kelly and Michael. Wednesdays are when that usually happens because I ostensibly work from home on Wednesdays—which means I get to have extra coffee and sip it nice and slow. I like to see Kelly and Michael walk out and start their banter. If they don't genuinely like each other and have the most fabulous lives imaginable, they both deserve Academy Awards. I like to tell myself that if I lived in the city, I too would go out on school nights and wear fabulous stilettos, just like Kelly. She is totally a BFF in my head. We share a love of fashion and I believe we share mommy styles—meaning we love our kids to pieces but we don't fawn over them or try to be their best friend.
Then, of course, there's Michael, a sweetheart. I am utterly transported by Michael's mouth—the gap, the lips, the laugh, all of it. Once he says "It's HUMP day!" in that silly, booming voice, I'm good to go. I turn off the TV. Apparently, they interview celebrities afterwards, which is nice I suppose. But who has time for all that?
This article was originally published on