The Best Yoga Pants On Amazon For Under $30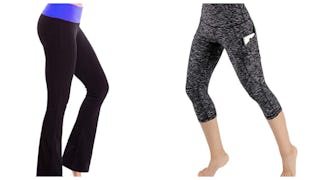 Image via Amazon
There's a pair of yoga pants for every season and everybody
Yoga pants, while technically a niche type of pant (as the name indicates), can fulfill a variety of needs for every woman. Which is why all of these yoga pants found on Amazon — all for under $30, no less — are must-haves.
Yoga pants should really be called "Running Errands Pants." Or "Too Bloated For Jeans Pants." Or "Not Leaving The House Today Pants." Or, if you're me, all of these but also "LOL I Slept In These Last Night But Put A Big Sweater And Pair Of Boots Over Them And You'd Never Know Pants."
Without further ado, here is a perfectly curated list of Amazon's best yoga pants.
Bootcut pants don't get the credit they deserve, you know? Sometimes the top you're wearing doesn't go with a legging. Sometimes you just don't want to worry about your calves. Not every pant has to be skinny everything, all the time — which is why these babies are perfect. The foldover top just makes them even more comfortable.
OK, how awesome is the phone pocket? Say no more, #1 selling point right there. Even if you aren't a runner or even a brisk walker — having somewhere to keep your phone snug and safe from small children makes these pants worth their salt. Tummy control is also a plus.
Who doesn't love ombre? Specifically, an ombre-patterned yoga pant that comes in no less than 36 (!!!) colors. These are perfect for a power-walk, in-studio yoga sesh, or just standing in front of your sink in full goddess pose while you wash those dishes to perfection. (Also good for offering flexibility for roundhouse kicks; you're not the only one who should be doing those dishes.)
True yogis will appreciate these adorable, sent-from-heaven, lovely pants. So will literally anyone else who just likes to be comfortable and wear cute patterns. Amazon also bills them as "beach pants" so win-win for dual pants purposes.
WERK. While these pants come in a variety of colors and patterns that don't all include these awesome cutouts, nothing — and I mean NOTHING — should stop you from wearing the hell out of these. To the gym, to the bus stop, to your mother-in-law's birthday dinner. They're just that fun.
These tried and true classics offer a thicker material than regular leggings do, because they're technically athletic pants. But if you're looking for simple and reliable, look no further than these ankle leggings by Spalding in black, navy, and grey.
Also by Spalding, these are great if you're a little on the petite side and yoga pants tend to run too long for you. Wearing longer yoga pants in warmer weather isn't always ideal, either, so that's where these come in. No fuss, no tripping, no worrying about baggy ankle excess. But they're perfect for working on your sun salutations or running out for coffee.
Let's face it — yoga pants are one "trend" that will probably never go away. At least, not for the foreseeable future (we fervently hope). So you may as well wear ones you love but don't have to break the bank buying.
We are a participant in the Amazon Services LLC Associates Program and may earn fees by linking to Amazon.com and affiliated sites.
This article was originally published on