You Are Not As Subtle With Your Humblebragging as You Think You Are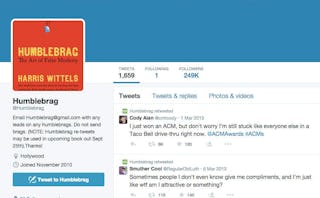 Ah, the beauty of a perfectly constructed humblebrag. You take a little balls-to-the-wall boasting, dial it down with a hint of self-deprecation, and then throw in a word like "ugh" or "weird" or "awkward" to make it all okay.
We've all seen humblebraggers on social media; we all know them in real life. And now there's a new study from Harvard that shows—guess what?—nobody really likes them.
The study measured the differences between humblebragging, complaining, and straight-up boasting on social media using reactions to statements like: "Hair's not done, just rolled out of bed from a nap and still get hit on, so confusing!" and "Graduating from 2 universities means you get double the calls asking for money/donations. So pushy and annoying!"
The results? Humblebraggers pretty much suck. "Humblebragging is disingenuous," social media expert Karen North, Ph.D., tells Real Simple. "It's manufactured modesty as a guise for overt bragging. And it's this dishonesty that bothers people. The opposing nature of a humblebragging post (I'm so talented! But I'm so modest!) is aggravating because it asks readers to go in two directions at once, reaction-wise."
Nowhere is this more apparent then in the world of celebrity, where the humblebrag is just a way of life. There's even a twitter account called @humblebrag dedicated to retweeting the most awesome examples. and it's got over 200,000 followers, with a spin-off book in the works.
Quite frankly, we can't stop reading:
Even Oprah Winfrey—and YOU get a humblebrag!—is not immune to the trend. The Queen of all Media sent this gem out on twitter: "OMG! Just had a SURPRISE date with Jackie Jackson. My teen idol hearthrob. Tried not to talk too much or eat too much. Succeeded at neither!"
We're not really buying the whole fangirl thing, O. But you're Oprah, so we're giving you a pass.
This article was originally published on