You Are Not Keeping This Baby
by Judy Honigfort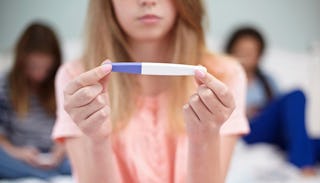 "You are NOT keeping this baby," I told her.
My 20-year-old daughter steeled her gaze at me. The battle of wills had begun.
This was not Zoe's first trip around the playground.
Two years earlier, at age 18, she had given birth to her first child, a son, whom she placed for adoption. I cried all the way home from the hospital. Zoe plunked down on our living room couch and remained there for weeks, recovering from a C-section and sleeping to forget her pain.
With this pregnancy, Zoe joyfully announced her "big news" and immediately began choosing baby names. Her two younger sisters' mouths hung open in shock and disgust. Her well-meaning roommate declared she would help raise the baby when she wasn't working. Or sleeping off a hangover. Three months later, she helped kicked Zoe out of the apartment they shared with four creepy friends. So much for that plan.
From creepy apartmentville, Zoe lived at my in-law's house for a few months, then landed a spot at a homeless shelter for pregnant women and their children in the city. The shelter touted itself as a "boot camp for pregnant women". It was clean, and safe, but crowded and loud. Zoe was "asked to leave" just weeks from her due date, for not following the rules.
"Well, that doesn't surprise me," I wanted to snap. But, I bit my tongue.
Zoe cried quietly into the phone.
But, for the past seven months, I had watched this oldest child of mine persevere despite the odds. With quiet courage, she had gotten herself some maternity clothes, gotten on Medicaid, and made it to every pre-natal doctor's appointment. She attended parenting classes at the shelter, and kept the handouts organized in a notebook. She had started collecting personal care items, free diapers, anything she felt she or the baby would need. And, for the first time ever, she had begun asking for help when she needed it, and showing gratitude when she received it.
I listened to her cry, and sensed her fear, her weariness, her hormones. Her need for a mother.
"You'll be okay," I told her.
Evie Lynn was born Monday morning, August 12, 2013, at 10:30AM She weighed 8 pounds, two ounces, and was 20 inches long. She was healthy, and pink, and came with a strong pair of lungs. I fell immediately in love.
I brightened Zoe's hospital room with balloons, and slept on the couch until she was discharged. When it was time, I drove her and Evie home, and helped her give her newborn baby her first bath.
Today, Zoe is a single parent, attending weekly counseling sessions, and gratefully receiving some government aid as she works hard to gain solid footing in her life. She plans to attend cosmetology school. She is a loving, capable, protective mother.
They say it takes a child to raise a responsible adult. I'm privileged to have witnessed this truth.
Related post: Yes, I Bought Condoms For My Son
This article was originally published on