You Can Adopt Pups That Failed Government Training For Being 'Too Nice'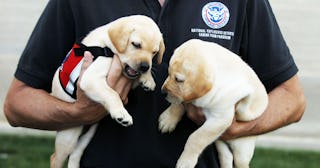 Alex Wong/Getty Images
These good boys and girls can't be working dogs because they're "too nice" — which makes them perfect pets
I have a derpy and wonderfully sweet-hearted black lab named Lucy. She's smart and loving and all the Good Girl things, but I know without a doubt that she'd make a terrible TSA or service dog because all it would take is a human petting her and she'd forget all her important doggie duties. That human could be a drug-carrying bad guy but if he did good scritch-scratches, all would be forgiven.
RELATED: Ready To Add A Dog To Your Family? These 5 Questions Will Make The Process Less Ruff
Which is how I know these TSA and service dog "failures" make the best pets ever.
So, not every puppy who embarks on a life of service is cut out for the job they're aiming for. Some become doggie school dropouts for being too scared, not having enough drive for the job, or having a "too nice" temperament. However, when it comes to family and pupper civilian life, being "too nice" is basically what every dog owner wants. That's why organizations like Freedom Service Dogs of America, Mission K9, and Service Dogs Inc. works to match these adorable training failures with humans only too happy to snatch them up and love them forever.
Freedom Service Dogs of America's special mission is to train shelter dogs to become service dogs, but the ones that aren't quite cut out for that very important job are adopted out to loving families.
RELATED: 100+ Popular Girl Dog Names That Will Keep Her Tail Wagging For Years To Come
See, they had sweet Rogue doing his good boy training and discovered he was down with eating rocks. So. Yeah. He wasn't exactly right for the job, but look at how happy he is now with his hoomans.
Mission K9 actually has the opposite mission — they work to find homes for retired service dogs so that after years spent hard at work, they can enjoy their golden time just playing with toys and getting all the walkies.
RELATED: 30 Golden Retirement Gifts To Celebrate Their Golden Years
Service Dogs Inc. is another organization that works with shelter dogs to turn them into service dogs but adopts out the ones who aren't ready for the gig. A super solid Instagram follow in case you're looking to lead your best doggie content life.
These amazing organizations aren't the only ones looking to find perfect homes for their working dog "failures." The TSA also offers a way for its drug-sniffing dog trainees who didn't quite make the cut to find their furever homes. Even better — the TSA Instagram account is yet another treasure trove of sweet puppers on duty and if you don't already follow them, you need to correct that immediately.
Look at this blurry-tailed most excellent of boys.
And this super silly explosives detection doggo doing her duties with a smile.
Some of these organizations require a fee to adopt, but that's pretty standard practice for welcoming any dog into your home. And isn't it worth it to get that loyal doggo in your life? Even if they're not the best at working an actual job, they can still make the sweetest and most loving of pets. Happy adopting!
This article was originally published on