You Can Now Watch the Entire Run of 'Seinfeld' on Hulu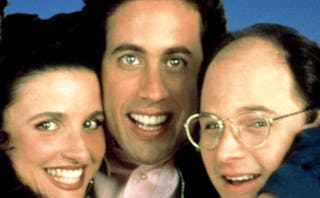 "You could've put the DVD in but I guess nobody wanted to do that," joked Seinfeld when the deal was announced on Wednesday.
Wait. What's a DVD player, again?
Hulu didn't spill the financial 411, but the buzz online is that they shelled out around $180 million for the series which—in case you failed third-grade math— comes to a million dollars an episode.
"There's no question that Seinfeld has played a major role in TV history, which is why we cannot wait to make all episodes of the series available to stream for the first time ever," Hulu SVP Craig Erwich told BuzzFeed. "Whether you are an existing fan who just wants to relive your favorite moments over and over again, or are a new viewer who wants experience Seinfeld from the very beginning, Hulu will now be your destination to stream what has been dubbed as one of the greatest shows of all time."
Some naysayers are arguing, however, that the price tag seems pretty steep for a series that most people over a certain age have already seen, let alone one still in syndication. "What's the real exclusivity here?" questioned Forbes' Merril Barr. "Exclusivity of the right to be the one online outlet that controls Seinfeld? Sure, it may land you some street-cred, but it's hardly going to pay off from a revenue perspective for anyone who lands the rights."
Forbes also called into question the show's inherent binge-worthiness, stating that "Hulu would seem to be counting on Seinfeld drawing in new subscribers— but it's hard to imagine how Hulu could justify such a major investment on that logic… Seinfeld is an at awkward vintage—old enough to be dated, but still too young to be a true classic. But more importantly, it has almost no binge-watching appeal; and at a million dollars an episode, Hulu is going to want its subscribers to gorge on the show, not cherry-pick an episode here and there."
Yada, yada, yada, I totally disagree. Because I see the way my 13-year-old and her friends watch TV, and it's totally different than the way we do. They don't even know what shows are currently on air, nor do they care. They pull a series up on their computer and then binge-watch it all the way through. When they're finished, they roll right into the next show. They way we would have at their age with, say, The Brady Bunch or The Partridge Family, had the technology been available.
And that "awkward vintage" inhabited by Seinfeld actually appears to be a current sweet spot for the teen market. So far my kid has barreled through Dawson's Creek, ER, Beverly Hills 90210, and One Tree Hill. She even went through a Hannah Montana phase (though she'd already seen every episode live) until Netflix suddenly pulled it back in December.
Oh and you know what series she and her middle-school posse binge-watched last month? Friends (which Netflix acquired for a reported $500,000 an episode last year). And they watched every single episode in the entire series not just once, but twice. So my money's on the fact that Seinfeld is not only binge-worthy, but possibly even sponge-worthy. Giddy up!
This article was originally published on