Your Teen Just Might Have Your Next Favorite Book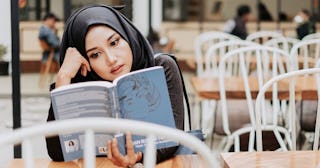 Ali Yahya/Unsplash
Are you looking for something new to read? Your next favorite book might be someplace you wouldn't normally look — a teen's bookshelf. Young Adult books may be written for teens, but the quality of storytelling may surprise you. YA books are currently killing it in terms of popularity among adults, namely for their levels of inclusion, diversity, and well-crafted characters.
As someone who immerses herself in Young Adult book culture, I can attest to the amount of adults rediscovering Young Adult books. Even after you've gone through your teen years, these books continue to speak to you. There is something so universal about the experiences teen characters go through.
Authors of Young Adult books are writing real, nuanced characters that just happen to be teenagers. These books pull you in and keep you gripped until the very last page. I have spent a lot of time reading YA books on a bench at the playground while my son plays, completely immersed in what's happening. He's gotten extra hours of playtime because I just have to read a few more pages. Sure, adult books are good too, but they rarely grip you in the same way.
For many adults, YA books weren't as popular when we were teenagers. But now, reading YA as adults, we realize how little certain aspects of human nature change from your teen years. And sometimes we're carrying around the same issues that were plaguing us at 16 or 17. After all, losing friends, heartbreak, and failing in love aren't exclusive to the teen years. Even if those "firsts" are behind us, the feelings never go away.
People who read are often looking for an escape from the everyday. "I read YA because it reunites me with the vivacious, inexperienced, and idealistic dreamer I once was," says Amanda Deich, a mom, writer and teacher.
Young Adult books give us an escape, but are rooted in reality. Even fantasy books by authors like Leigh Bardugo, Dhonielle Clayton, or Sabaa Tahir feature perfectly developed characters. You can feel that these characters have a rich life on the page and draw you into their world. But even in a fantastical setting, they are real kids dealing with real problems.
Though publishing still has a long way to go in terms of kid-lit diversity, the Young Adult genre is leading the charge. As adults, we are gravitating to Young Adult books because they're not afraid to tell "diverse" stories. If you walk the YA aisle in any bookstore, there are girls on covers with dark brown skin. You're seeing young women in hijabs. Characters in these books are genderqueer and non-binary. There are differently abled characters as the heroes. What you're seeing are books that actually reflect the world we're living in.
So often we talk about representation mattering for kids, but we forget how much it matters still for adults. And many marginalized adults read YA books because those books give us the representation we didn't have as kids. Just because we grow up doesn't mean we aren't still looking to belong. YA books offer us a place to not just see ourselves. And let's be honest, there are way too many straight white men who think they can write about everyone and so often miss the mark.
One of the most popular Young Adult books of the last few years is Angie Thomas's The Hate U Give. It gives readers a frank look at the effects of police brutality by showing you the people experiencing the tragedy are just that, people. While it is certainly popular with teens, it's just as popular with adults. Sometimes it's parents who are reading the book on the recommendation of their teen, but there are a lot of adults without teens reading the book too. Because it's talking about something painfully current.
"Seeing black girls as the hero instead of a sidekick or a slave was never something teen me got to read. Now, I get a chance to read and tell those stories," says Liselle Sambury, who writes YA Sci-Fi/Fantasy.
But it's not just black girls. Books featuring other brown kids just existing are all over the shelves. A book like When Dimple Met Rishi by Sandhya Menon or Not the Girls You're Looking For by Aminah Mae Safi star brown girls going through the everyday trials of teenage life. And Muslim authors are finding the space to tell their truths in books like Internment by Samira Ahmed or A Very Large Expanse of Sea by Tahereh Mafi. These stories are raw and real, but also sweet and true to life. YA has space for all of it, and you don't have to just be one thing.
Queer adults don't get a ton of books in the adult section. For adults, queer books are still seen as a niche market, even though we're literally everywhere. So where does a queer adult looking for a sense of belonging go? To the Young Adult section of course. There is an abundance of books about queer teens all over the spectrum, and many by queer authors. Books by Adam Silvera are full of complex queer characters, as do books by Robin Talley. Some of us are still figuring out our queer identities, and we see ourselves in these teens. These books offer us a safe space to seek connection, and can offer healing from our own teen years.
If there is anything I know to be true, it's that Young Adult books are not just written for teens. Ask the teens in your life what they're reading. Chances are they have books on their reading lists that will surprise you with how good they are. Don't just dismiss them for being frivolous stories about teenagers, many have unmatched depth.
Looking for more recommendations? Read on!
Dear Martin by Nic Stone. After teen Justyce McAllister experiences police brutality firsthand, his world is rocked. So he turns to the writing of Dr. Martin Luther King Jr. for insight and begins writing a journal to Dr. King as a way to figure out his way in the world.
The Poet X by Elizabeth Acevedo. Told in verse, a young girl in Harlem, NY uses poetry to understand her place in the world. Her mother's religious beliefs conflict with her growing feelings about what she wants, including a cute boy and her desire to be a slam poet.
Black Wings Beating by Alex London. In this LGBTQ+ fantasy, twins Brysen and Kylee must fight to save their home that's about to be ravaged by war. They are on a quest to find the Ghost Eagle, the only bird of prey that could help their fight. Each one has their reasons for the fight, but they know they must work together.
Monday's Not Coming by Tiffany D. Jackson. When Monday Charles goes missing, the only person who seems to notice is her best friend Claudia. As Claudia digs deeper to find her best friend and try to endure school without her, no one will help her.
This is Kind of an Epic Love Story by Kacen Callender. Nathan is a film buff who keeps his heart guarded. But when his childhood best friend Oliver comes back into the picture, he realizes maybe he needs to make his own happily ever after.
We Set the Dark on Fire by Tehlor Kay Meija. Daniela Vargas's parents sacrificed everything to give her a better life. And she almost has it by marrying an important son of a politico. But when she's asked to spy for a resistance group, is she willing to give it all up?
I Wish You All the Best by Mason Deaver. When Ben comes out as non-binary to their parents, they kick them out. They move in with their estranged sister and her husband, just trying to get through the end of high school. But then they meet Nathan, and maybe things will work out after all.
Symptoms of a Heartbreak by Sona Charaipotra. Saira, the Indian-American youngest doctor in America at 16 starts working at the hospital with kids with cancer. Working at the hospital with adults who don't believe in her capability and her mother takes their toll. But when she meets a cute boy with cancer, she has to figure out if he's worth losing everything she's worked for.
Happy reading!
This article was originally published on