My 'Low Risk' 25-Year-Old Cousin Is In A Medically Induced Coma Because Of COVID-19
by Felissa Allard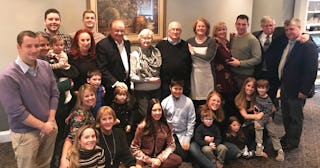 Courtesy of Felissa Allard
Hello, you. Yes, you on the playground. I see you there. Savoring the beautiful warm weather. Sun sparkling on the pavement while you enjoy a carefree afternoon. Or you, there on the basketball court, high-fiving your friend. Did you really just try and slam dunk that ball? Wow. I see you. Hello, you, enjoying a picnic with friends. What's the vintage of that wine in a box? Did you realize you're remarkable? Special? Eye-catching? Because you're catching my eye.
You see, we're on lockdown, shelter in place, stay at home, social distancing, whatever you want to call it. We're smack in the middle of a worldwide pandemic. Yes, that sounds dramatic, but it's true. And while I sneaked out quickly to pick up a prescription (of course, Xanax) at the drive-through pharmacy, anxiously spraying the bag immediately with Lysol, you're out there basking in the sun, unashamed, unaware, or maybe just uncaring.
Oh, so you're young, healthy, and never get sick? Way under the risk age of 65 with no underlying medical worries or concerns? OK, phew, because for a second, I thought maybe you lived under a rock. Maybe, just maybe, you didn't realize there's a deadly virus circulating the planet, killing indiscriminately, anyone, anywhere, and it doesn't care about your age.
You see, being under 65 or 40, or even 25, isn't a guarantee. My cousin Jack, 25 years old, was an All-American lacrosse star in college, worked out regularly, never smoked, never vaped, and could probably run circles around all of us and not break a sweat. And yet, there he sits in a hospital in a medically induced coma, a ventilator helping him breathe, while his body fights this deadly virus. No underlying medical issues. No problems with his lungs. The picture of health and youth. He commuted from New Jersey to New York City, every day, for years. No one can guess where this virus will strike.
When the virus first started to spread, people breathed a sigh of relief — thank goodness it wasn't hitting young people. Or so it seemed around the world. Millennials were safe. Gen Z was protected. Sure, we'd have to watch out for the aging Boomer population, but wasn't that similar to flu season anyway? For those under 65 or with no underlying health issues, this was no big deal. Although it was spreading quickly, young people felt safe.
Spring break may have been the biggest (or should I say most egregious) episode of this false sense of security. Who didn't watch and cringe at those spring breakers saying nothing could stop their partying (sadly, I didn't catch one Beastie Boys reference)? One partier told CBS News, "If I get corona, I get corona. At the end of the day, I'm not going to let it stop me from partying." Say what? Another sun-worshipper complained that it was really messing up her spring break. Cue the world's smallest violin.
Well, guess what? On March 21, the University of Tampa announced that at least five students who had traveled for spring break had contracted the virus. So much for beer and bikinis being the perfect armor against this virus.
At the time of this writing [March, 2020], according to the CDC, there are almost half a million cases of coronavirus around the world. With over 20,000 deaths. The United States, which had just under 2000 confirmed cases about two weeks ago, now has close to 85,000. This total continues to rise with alarming speed. Actual numbers are probably much higher because people with mild symptoms are being advised to stay at home, to avoid going out, even if it means foregoing a test.
Yes, most people recover. And yes, most people do not need hospitalization. But there are no guarantees. In truth, the CDC has recently updated their numbers, saying that among the 12-13 percent that need hospitalization, about one in five are between the ages of 20 and 44. Los Angeles just reported their first death of someone younger than 18. You can be young and healthy and still get sick. You can be in perfect health, and it just doesn't matter. This virus doesn't care. Think of Jack. This All-American athlete with his entire life ahead of him, now fighting for his life. Fighting for every breath. Fighting just to see outside of the hospital one more time. Fighting just to live.
Which reminds me…
Why are you at the playground? Or the basketball court? Or having a picnic? Why are you strolling to the corner store for jelly beans? Hitting up the tennis courts? Why are you out and about, without a care in the world? Because right now, that's exactly what we all have in common – too many cares.
Our entire world, all 7.8 billion of us, have a lot to care about. Each and every one of us has to care for one another. We have to care enough to put our own enjoyment of life, our enjoyment of the finer things, like restaurants, parties, and the gym, aside for the good of the whole. You, my friend, are not more important than everyone else. Your right to hang out with friends does not supersede someone else's right to live. So, before you head out again with a shrug of your (maybe not) healthy shoulders, remember, I see you. We all see you. And we won't forget.
Information about COVID-19 is rapidly changing, and Scary Mommy is committed to providing the most recent data in our coverage. With news being updated so frequently, some of the information in this story may have changed after publication. For this reason, we are encouraging readers to use online resources from local public health departments, the Centers for Disease Control, and the World Health Organization to remain as informed as possible.
This article was originally published on