3 Young Men Invite Lonely Widow To Eat With Them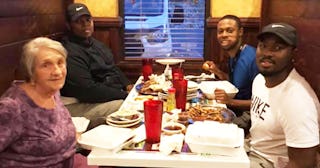 Courtesy of Jamario Howard via Facebook
This story about three young men sharing dinner with a widow will make you so happy
Prepare for your faith in human goodness to be restored with one very sweet, very kind story. Jamario Howard took to Facebook to share a chance encounter that he had with an elderly woman who was eating dinner alone at a restaurant. It will make your heart incredibly happy and full.
Howard was out with two of his friends at a restaurant in Oxford, Alabama when he saw an older woman eating dinner by herself. His first thought was: "Dang I'd hate to have to eat alone." So, the young man decided to head over to her table and asked if he could sit with her. They chatted a little bit and he learned that her husband had passed away and their 60th anniversary was the next day. Howard immediately asked her to join his table of friends and she happily agreed.
They took the below snapshot which is just all kinds of pure and lovely and sweet (plus the BBQ ribs look beyond delicious):
That small moment of connection with a stranger turned into a big teaching moment for Howard. "The point in this is always be kind and be nice to people. You never know what they are going through," he wrote. "This woman changed my outlook on life and how i look at other people. Everyone has a story so do not judge!"
Oh yeah and he also had another very important message for his followers. "People i can't stress this enough. GO SEE YOUR MOM AND YOUR GRANDPARENTS. They miss you!!"
YUP YUP. AMEN TO THAT.
Howard's story resonated big time online. His post racked in over 200,000 likes, 57,000 shares, and more than 20,000 comments. People applauded the young men for putting in the effort to make a stranger feel happy and included. Some shared their own struggles with spending time alone after losing their loved one.
"Awesome young men, and thank you for sharing your meal and mostly your time with her," one commenter wrote. "I know how it is to be alone.My husband died 9 years ago. We had been married 40 years at the time. And it gets very lonely sometimes!"
Another added: "Bless you for being so thoughtful and kind to that lady. I don't eat out at times when I would like to. I lost my husband 9 months ago and don't feel comfortable alone. But I'm blessed, most of the time friends and family are always calling and inquiring."
And others were just really, really damn happy to see the woman enjoying her meal with good company. "I'd hug you all if I could," one Facebook user wrote. "I lost my grandma and seeing you all make this lady smile makes the world a better place."
Here's to always reaching out to strangers and making sure they're doing okay. Hopefully this is the beginning of a beautiful friendship and lots more BBQ ribs, as Howard tells Scary Mommy the group is planning to meet up again soon.
This article was originally published on