Young People Are Driving Voter Turnout So Stop Your B*tching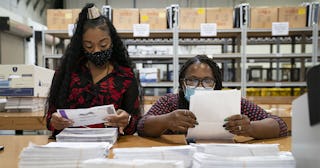 Drew Angerer/Getty
Young voters could be responsible for record voter turnout this election
With less than a week to go until Election Day, early voters and absentee ballots have set the scene for record voter turnout this year. With many voters avoiding the polls (and potential crowds on Election Day) because of the coronavirus pandemic, as of Wednesday this week, a full six days before the election, more than 75 million Americans had already voted. That's well over half of the 138 million total people who voted in the 2016 election.
But what's even more exciting to see is that record voter turnout is being driven largely by young people. According to TargetSmart, a political data firm, 6.8 million of the nation's early voters are between the ages of 18 and 29. That's a 250 percent increase over the number of voters in that age range who had voted by this point in the 2016 election. Huge numbers of young voters are mailing in their ballots or hitting the polls early, and we're seeing that especially in states that are projected to be major electoral college battlegrounds this year.
In Texas, 8.2 million people had voted by Wednesday, the state's deadline for early voting, which is a stunning 91 percent of the state's total voters in the 2016 election. Who's behind what could be record voter turnout in Texas? You guessed it — young people. By the Wednesday deadline, voters under 30 had cast 900,000 ballots in the Lone Star state, which is nearly three times as many votes as that age demographic had, total, in the 2016 election. Take that, Boomers.
But Texas isn't the only state where young people are showing up to do their part.
Young people in Florida have cast 569,000 ballots so far — 42 percent more than their total votes in 2016. Young people in North Carolina have cast 404,000 ballots so far — 63 percent more than their total in 2016. And in Georgia, young people are responsible for 340,000 ballots so far — an incredible 82 percent increase over the number of young people who voted there in 2016.
Now, it's still possible that all these young people are voting early and by mail, and voter turnout for the 18-29 crowd will be less on Election Day. But experts don't think that will be the case. This follows trends that were already in place — young people had a higher rate of turnout in the 2018 midterm election than in any election since 1974. In fact, turnout for young people in 2018 was almost three times higher than in the midterm election in 2014.
It's no wonder young people are getting involved. This election is historic, and could decide so many factors that set the course of their lives for decades to come. The only way for young people to help ensure they have healthcare, well-funded education, and a healthy planet to live on is to vote, and they seem to be taking that responsibility seriously.