Watch The Trailer For 'Young Rock' A Sitcom That's Literally About The Rock
by Madison Vanderberg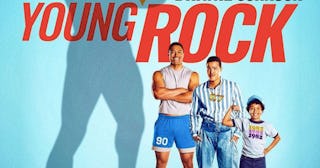 The Rock Instagram
Dwayne Johnson drops the trailer for new NBC sitcom Young Rock
If you love Dwayne "The Rock" Johnson and are dying for some new comedies to watch, may we suggest Young Rock, a new NBC sitcom coming out next month that is quite literally about The Rock's life. Conceived by and produced by the superstar, Young Rock is a sort-of retelling of The Rock's life from his humble beginnings to his current superstar status. Per The Rock, the show is about his life, err well, all "the crazy shit that's been my life throughout the years," and well, we'll just let you watch the trailer to see for yourself.
The show follows Johnson from childhood through high school (or as Johnson put it, when he was "accused of being a high school undercover cop at 15yrs old because I was already 6'4 220lbs with a FULL Magnum PI mustache and driving my own car") to his days as a pro wrestler in the early '80s.
In an Instagram post, The Rock detailed a number of wild and "are you serious?" true stories from his life that the show will throw up on screen, like the time The Rock hustled someone into selling him a car for $40 to somehow getting a .7 GPA his freshman year and being put on academic probation. From high school to college football to wrestling and then onto Hollywood, I can only imagine there are about 100 seasons of this show, because that's a lot of life to cover.
"I can't wait to make you and your families laugh a little and share the life lessons I've learned along the way," Johnson shared in an Instagram post, while adding that he wished his father was still alive to see how Johnson has memorialized his family's life onscreen.
The world got its first tease of Young Rock at the Macy's Thanksgiving Day parade when NBC created a giant balloon modeled after The Rock circa 1990. It was…a lot.
https://www.instagram.com/p/CID2iWEs5gA/
The Rock produced the show with his ex-wife Dany Garcia, who shared another behind-the-scenes look at the show, and how cute is the actor playing a tiny version of Johnson?
Billed as The Rock's comedic "origin story," Young Rock comes to NBC on February 16, 2020.