You're Gonna Want All Of These Super Comfy Dresses (And The Accessories To Match!)
by Team Scary Mommy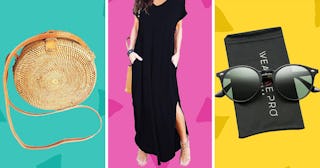 Amazon
Here Are Our Very Favorite "Girl, Where'd You Get That Dress?" Dresses
If you're a card-carrying member of the no-pants party, you are likely excited to start rocking the gorgeous dresses this season has to offer. Not just any dress will fit the bill when it comes to style and comfort. For us, it has to be comfortable, first and foremost, and it needs to look like we tried when we really didn't, because let's be honest, kids don't really allow time for "trying". You're lucky if you get a shower and a cup of coffee.
So, in an effort to helping our fellow moms look their best (with very little effort), we have done our research and found dresses for days, and bonus, some of them have pockets!
This dress is so freaking flattering on every one! Dress it up with heels or keep it causal with sandals. (Available in additional colors.)
Add this to your LBD (Little Black Dress) collection, because it's a 10!
Not trying to be dramatic here, but I need this dress in every color. (Available in 28 additional colors.)
A T-shirt dress is a staple for all women. A STAPLE. (Available in additional colors.)
This dress is perfect for ladies of all heights! The tie-waist gives it a flattering fit and the slit gives it a bit of sass!
Every girl needs a long floral maxi, or seven. This one is to die for! (Available in additional prints.)
THIS DRESS. I can't. It's so GOOD! Sorry for all the shouty capitals, but if you don't believe me, read the reviews. (Available in additional solids and prints.)
We all know how flattering a great wrap dress can be, and this one doesn't disappoint! (Available in additional prints.)
I don't know what it is about this dress, but it makes me feel things.
Pockets? Polka dots? I'm in.
This beauty is perfect for a day at the beach or a date night out on the town.
Where are my tall mamas? This is the dress for you, sis! Check out the reviews if you don't believe me. (Available in additional colors.)
Are you feelin' all those warm weather vibes? Good. Here are a few of our favorite accessories to rock with your new dresses!
This purse will match all of the dresses, so obviously you need it, too.
Because the sun is bright and these sunglasses are adorable.
Don't act like you don't want this hat. (Available in additional colors.)
These are the ones and you know it. They match every outfit and every mood.
This crossbody bag is perfect to take with you to any occasion, and did I mention the tassels?
You're totally ready for summer now. Wear these dresses proudly, because you may look may look like a 10, but you will feel like you're wear pajamas! (And that's really the goal, isn't it?)
We may earn fees from purchases made via links on this page and affiliated sites. All opinions are our own.
This article was originally published on