Youth Sports Referees Are Quitting Because They're Sick Of Abusive Parents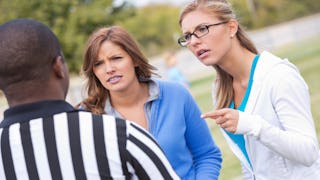 Image via Getty Images/Steven Debenport
The referee shortage is impacting our kids' ability to play the sports they love
If your kids are in sports, odds are you've gotten a front row seat to an episode of "Adults Behaving Badly" when another parent screams at a referee during a game. Usually it's over a perceived bad call or missed penalty that results in yelling profanities at those responsible for calling the games. Unfortunately, it happens so often that many refs are hanging up their whistles, causing a major shortage in some areas that's impacting our kids' ability to play.
According to the Washington Post, Mid-Atlantic Officials is one of the D.C. area's largest referee assigning groups for baseball. They're currently experiencing their worst shortage of umpires and referees in over a quarter century and only about half the umpires who complete a year of service return for a second year, according to Commissioner John Porter. Football Officials Association isn't faring any better, experiencing a 40 percent drop over the past three years. Nationally, eighty percent of high school officials are quitting before their third year, according to the National Federation of State High School Association.
Refs are fed up with increased verbal abuse from parents, coaches, and even the kids themselves. There have been physical confrontations where parents were caught on video shoving refs. Most referee because of the love of the sport and are just trying to do their jobs while being constantly berated. And they do it for almost no money. According to The State, refs make anywhere from $12 to $45 pay check, depending on the sport and location.
There are so many armchair quarterbacks at my kids' activities you'd think every one of them played professional sports at some point in their lives. Here's a thought: if a parent believes they can perform the job better than the refs, by all means, volunteer. Hey, I get it, maybe these parents don't volunteer because they're too busy. Their time is too valuable. But, guess what? These refs have jobs and responsibilities outside of this goat rodeo just like anyone else. They don't deserve to be treated so poorly.
Of course, sometimes parents yell because a bad call or missed penalty can result in injury for their kid and that can be scary. But trying to keep a level head and remembering they aren't doing it on purpose can go a long way. No one does their job flawlessly every single time.
Unfortunately, because of this, many youth sports games are being delayed or postponed while sports organizations are scrambling to fill the void. Others are allowing games to be understaffed due to a lack of officials, which can cause greater risk for injury in and of itself.
Parents need to keep in mind that these are people taking time out of their lives to help improve their child's skill set and teach them the rules of the game. We all need to practice patience and kindness and think before speaking.
After all, our kids are watching.