YouTube's New Parental Controls Make Monitoring Kids' Screen Time Easy AF
by Julie Scagell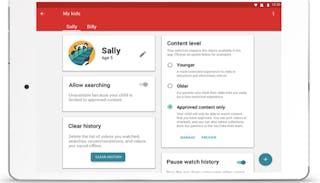 Approving what YouTube content your kids are exposed to is now easier than ever
If you have kids, you know how YouTube obsessed they can become at any age. And while there are certainly content concerns to worry about as kids get older, the stress of what our younger ones can find is also a worry. YouTube has recognized this and has been making big changes to help parents control what our kids see by updating some of their YouTube Kids security features.
According to their blog post, the company said their two latest updates will allow parent-controlled content as well as net-new experience for older kids.
The parent-approved content enables parents to choose every single YouTube video and channel available to their children. To do this, simply open settings, go to your child's profile, and select "approved content only." Once you do this, you can start picking approved videos for your kids by pressing the "+" button. "Parents can also search for a specific creator or video," they said in their statement. "If parents choose to enable this mode, their kids will not be able to search for content on their own," which is a huge win on its own.
As of right now, the feature is only available on Androids but will be coming soon to iOS.
The second big change is that the company's launching a new user experience aimed at kids aged 8-12 that includes new music and gaming content. Once parents have had a chance to look at the new material and feel it's appropriate for their kids, they can select "Older" when setting up a new profile or updating an existing one. If not, the "Younger" version (which is the default) still has the same selection of age-appropriate content for kids.
"We work hard to make videos in the app family friendly, but no system is perfect. It's always possible that a parent may find something they don't want their child to watch in the "Younger" or "Older" experiences," the company wrote. "If this happens, we ask that parents block and flag the video for review by our team. This makes YouTube Kids better for everyone."
It's nice to see companies like YouTube that are aimed at kids continuing to innovate in these areas because as all parents understand, knowing what our kids are really watching online is becoming more and more difficult to manage.
This article was originally published on