YouTube Star 'Blippi' Pisses Off Parents Everywhere With National Tour Scam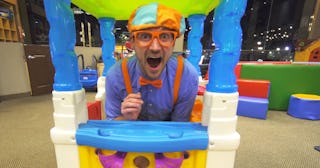 Blippi/Youtube
Turns out the real Blippi won't be coming to a city near you — but a fake one will
If you're a parent of a preschooler, chances are you are intimately familiar with Blippi, the YouTube sensation whose channel regularly transfixes young children. The good news is he just announced a national tour — yay! The bad news? It's not actually Blippi who's headlining the show. In fact, the real Blippi isn't even going at all.
Stevin John, the real-life person behind his viral persona, tells Billboard he won't be taking part in the tour that bears his character's name because making the YouTube videos is too time-consuming: "I won't be on the road, but I am obviously extremely involved with the whole process," he says. "Blippi is as a character and I'm the creative force behind it, but since YouTube is a monster and all of these platforms are really crazy I can't go on the road for many weeks or months at a time."
Okay, that's understandable. But why launch a national tour at all then? Kids aren't dumb. They'll know instantly that the guy donning the signature orange glasses and suspenders is a fraud version of Blippi. Especially because the tour tickets include a personal meet-and-greet with Blippi!
So instead of meeting, greeting, and performing his shtick himself, John is sending an actor to do it on his behalf. Fake Blippi will be trained by John himself to master the mannerisms and tone of Real Blippi.
"My advice to them will be to try and envision what it was like to be a child and remember how your excitement and imagination we're at such an elevated level," John said. "I really try and remember what it's like to be a child. I had a great childhood and I want my audience to have a great childhood and get excited about life and to love learning."
The site itself is upfront about the fact that Stevin John will not be taking part in the tour in the FAQ section.
Meanwhile, every kid in audiences across the country are going to be like "Uh, will the real Blippi please stand up?"
Moms and dads everywhere are taking to Blippi's social media accounts to share their frustration and disappointment about spending money and travel time on tickets to see Fake Blippi.
The feelings of these parents are all completely valid — I myself was even planning on purchasing tickets to take our four-year-old to see Blippi when he visits our town in February. This definitely changes my initial plans — she'd know it was a fake within seconds, and I'm not interested in wasting money and dealing with a swindled preschooler.
Today Blippi Inc. is anchored by about ten agents at UTA in Los Angeles that cover live touring, publishing, licensing and products, according to Billboard. And yet not a single one of them considered the likelihood of the PR disaster this turned out to be. Huh.