YouTube Removes 1 Million Videos With Covid Misinformation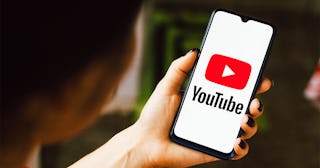 SOPA Images/Getty
The popular video platform has been besieged with incorrect information about COVID-19 vaccines, and now it's taking action
Truth can sometimes be as slippery and elusive — but when it comes to scientific fact, there are lots of cases where the truth is perfectly clear. Of course, that's hard to explain to everybody, especially those who have been trapped in echo chambers on the web. It's a huge problem that public health officials battle as they try to inform a public that has been caught in the crossfire of incorrect information about COVID.
In the past several weeks, some members of the public have turned to risky methods to fight the coronavirus, with the decidedly dangerous suggestion for people to take a powerful medicine typically used for horses as just one of many examples.
Social media organizations, at first reticent to quell baseless content, have recently decided to do better at curbing misinformation on their sites. With what must be considered a new resolve in fighting dangerous medical advice, YouTube has announced it will remove content questioning any approved medical vaccine, not just those for Covid-19.
Bloomberg reports the ban will include any media that claims vaccines are dangerous or lead to chronic health outcomes such as autism, said Matt Halprin, YouTube's vice president for trust and safety. So far, the platform has removed more than a million such videos.
A year ago, YouTube banned some videos that were critical of Covid-19 vaccines. Since then, the company said it has yanked more than 130,000 videos for violating that rule. But a mountain of videos got around the rule by making unsubstantiated claims about vaccines without ever saying the words 'Covid-19.' YouTube has now announced that it's previous policy wasn't enough.
"We can imagine viewers then potentially extrapolating to Covid-19," Bloomberg reports Halprin said. "We wanted to make sure that we're covering the whole gamut."
Courtney Theriault, reporter for City News Edmonton, tweeted about the spread of misinformation.
President Joe Biden and U.S. lawmakers have hammered social media platforms for allowing unchecked vaccine theories and outright falsehoods to play freely. For what it's worth, politicians and pundits on the right claimed YouTube is censoring the right to free speech. Which… maybe someone should remind them that the right to free speech means THE GOVERNMENT can't put you in jail for speaking. A private, corporate platform that hosts TikTok mashups and prank videos has every right to decide if something is too incendiary or simply too false for their website.
Activist Amy Siskind took to Twitter to wonder if the platforms should have put this practice into place earlier.
Garth Graham, YouTube's global head of health care, said the company didn't speak with the Biden administration about this recent policy update, but consulted with health experts. "There's a lot of scientific stability around vaccine safety and effectiveness," Graham said.
In February, Facebook said it would ban accounts that repeated conspiracies about vaccines and has tried taking stronger measures to combat vaccine hesitancy.
To date, YouTube has let people broadcast most anything about vaccines. Its new policy, which goes into effect Wednesday, will remove several prominent accounts that Biden has criticized.
Still, YouTube's new rule will have two caveats. Halperin said the company will allow "scientific discussion" — videos about vaccine trials, results and failures. And YouTube will continue to permit personal testimonies, such as a parent talking about their child's experiences getting vaccinated.
If videos aggregate these testimonials into one clip or make broader claims questioning vaccine efficacy, then they will be removed, according to Halprin. "It's only when somebody then turns around and generalizes, 'It's not just about my child,'" he said. "Obviously there's a line there."
This article was originally published on