LGBTQ Activist Could Become One Of The Youngest State Legislators
by Christine Organ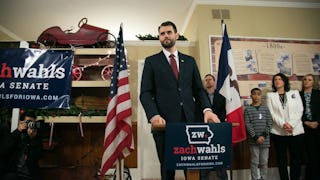 Zach Wahls for Iowa Senate
I don't know about you, but when I was 19 years old, I wasn't exactly setting the world a blaze. Nope. At that age, I was pretty much trying not to flunk out of my college calculus class and figuring out where the best party would be on Saturday night (and then dealing with the hungover aftermath of that party on Sunday morning).
By the time I was 26, I had grown up… a little. I had a job and was planning a wedding, but I still wasn't doing anything particularly noteworthy or changing the world.
But not Zach Wahls. He is, quite simply, setting the world on fire. And he's only 26 years old.
The name Zach Wahls first became a household name when he gave a speech defending marriage equality before the Iowa legislature in 2011 — when he was just 19. The country was introduced to the Wahls' family. Zach, his sister Zeb and his two moms Jackie and Terry who have been together for over 20 years. The speech quickly went viral (because it is A-Mazing!), and to date, the video of his speech has been viewed more than 3 million times.
He continued to champion LGBTQ rights — co-founding Scouts for Equality, the organization that helped lead the charge to bring an end to the Boy Scout organization's ban on gay scouts and leaders . In 2012, he spoke at the Democratic National Convention, and he also authored My Two Moms: Lessons of Love, Strength and What Makes a Family." He also teamed up with his sister in 2016 to create and produce The Woman Cards, a set of playing cards featuring inspiring women.
As if that weren't enough, now he is making a run for the Iowa legislature. Winning nearly 60 percent of the vote in his primary on June 5, Wahls is expected to advance to the November general election for a state Senate seat in Iowa's 37th District. If he wins, he would become one of the state's youngest lawmakers.
"When I delivered my speech defending same-sex marriage back in 2011, I had no idea it would one day lead me back to the Iowa legislature," he said in a statement. "Our campaign marks a new generation of leadership in Iowa politics."
Wahls said he decided to run for office after a longtime state senator retired. "Our state is currently facing an all-hands-on-deck moment that will define the future of Iowa for generations to come," he told Scary Mommy. "We've seen a lot of changes since the 2016 election that cut deeply against the long progressive tradition of our state. Like so many other people, I feel a deep responsibility to fight for the values we believe in, and I wanted to make the biggest difference I could."
Although some folks tried to tell him he's too young or inexperienced to run for office, the voters clearly disagreed. Wahls credits the grassroots efforts by fellow millennials working on his campaign, including area high school and college students.
"We had a group of about twenty high school student volunteers who were all working on their first campaign," he said. "We wound up making over 10,000 voter contacts between door knocking and phone calls during the primary campaign, and we couldn't have done that without their help."
In addition to engaging young voters, Wahls is also determined to reclaim the voice of morality from the religious right. At a time when the religious right seems hellbent on spreading the gospel of hate against LGBTQ community and other marginalized groups, Wahls – a lifelong Unitarian Universalist – is a good reminder that the religious right doesn't speak for all of us.
"As a Unitarian Universalist, I believe deeply in the inherent worth and dignity of every single person," he said. "I think it's imperative for the Left to feel comfortable using the language of religion and faith, even if it's more about the philosophy and moral lessons than about literal interpretation of text."
In addition to advocating for LGBTQ rights, Wahls' platform also focuses on lowering the cost of health care, stronger gun reform laws, and workers' rights among other issues.
"At the national level, I'm deeply concerned about President Trump's deliberated attacks on democratic norms and American political institutions," he told us. "These 'guardrails of democracy' only work if we protect them."
Bravo, Zach. BRAVO. Even if we're not Iowa voters, we're behind you 100%.