Spelling Bee Winner Zaila Avant-Garde Receives Several Full-Ride Scholarship Offers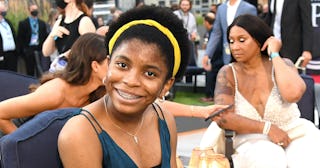 Kevin Mazur/Getty Images
The accomplished teen has no less than three colleges vying for her attention
It's been quite a week for Zaila Avant-garde. The 14-year-old Zaila from Harvey, Louisiana won the 2021 Scripps National Spelling Bee at Disney World on Thursday. With her winning word, "Murraya," a classification of citrus trees, Zaila became the first African American winner in the tournament's history. And since, she's not only been celebrated for her historic win, but Zaila has also received not one, but three full-ride scholarships.
During the celebration of Zaila's win, the teen twirled and jumped, winning hearts all over the nation.
With no less than three Guinness World Records tied to her basketball skill as well, the top player in the competition started competing in spelling bees just two years ago. Zaila's proud papa knows what's up.
Quite naturally, the rest of America has been swooning over her infectious enthusiasm (and impressive CV) since her win.
"Zalia Avant-garde might be the most interesting person in America," one tweet reads.
With Zaila Avant-garde's historic victory, Southern University became the third and most recent Louisiana institution to offer a full-ride scholarship to the talented student. In a tweet Saturday evening, Southern University President Ray L. Belton announced that, in addition to a scholarship, he would institute a "Zaila Day" at the institution.
"I am pleased to announce that @Southernu_BR is offering #ZailaAvantgarde a full scholarship and "#Zaila Day" at SU, part of the nation's only #HBCU system," Belton tweeted. "Our student leaders, faculty, and alumni look forward meeting with you. We welcome you to the #JaguarNation!"
Belton's bid for young Zaila to attend his university comes after LSU President William Tate offered the teen a scholarship.
In a tweet, Tate IV voiced his support of the youngster, writing, "Zaila Avant-garde @basketballasart performed at the highest level in the National Spelling Bee. Your academic performance reflected scholarship first! You modeled intellectual excellence. @LSU_Honors awaits. I write to offer you a full scholarship to attend LSU. Here for you!"
If that wasn't enough, the Louisiana Community and Technical College System became the first academic institution to offer Zaila a scholarship to attend any community and technical college in the state.
While Zaila is most likely humbled by the offers, she has gone on the record saying she was interested in attending Harvard University.
The exciting collegiate news comes as Zaila attended the ESPY Awards, where she stole the show.
Keep winning, Zaila! We can't wait to see where you bring your energy (and your trademark twirl) next.