14-Year-Old Zaila Avant-Garde Is This Year's Scripps Spelling Bee Champ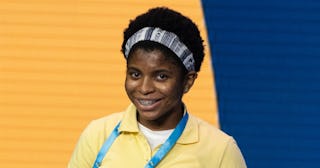 JIM WATSON/POOL/AFP via Getty Images
Zaila is the first African American winner in the tournament's history
Quick, how do you spell "adorable?" Today, there's a new accepted spelling of the adjective: Z-A-I-L-A. The accomplished 14-year-old won the Scripps National Spelling Bee on Thursday (becoming the first African American winner – ever. The only Black winner before her was Jody-Anne Maxwell, who represented Jamaica in 1998.) Smart kiddos doing smart things is always adorable – -or Zaila).
This year's National Spelling Bee competition started with 209 young contestants from five countries: the US, the Bahamas, Canada, Ghana, and Japan.
Young Zaila won the tournament (and the $50,000 prize) by spelling the word "murraya," which refers to a genus of citrus plants. Oh, and this isn't the prodigy's first dance with greatness. The Associated Press reports Zaila holds no less than 3 Guinness world records for dribbling multiple basketballs simultaneously.
https://www.instagram.com/p/CHyJd3TgvV0/
Zaila also appeared in a commercial with NBA great Steph Curry.
https://www.instagram.com/p/B0M_iaJg-U4/
When Zaila realized she won, the teen gave a little twirl as confetti dropped from the ceiling.
"It felt really good to win because I have been working on it for like two years. So to actually win the whole thing was like a dream come true." Zaila told CNN she "felt like in the moment I snapped out of a surreal dream."
According to NBC News, Zaila knew she would be the first African American winner of the bee. She knew Black children would watch the tournament and see someone who looked like them. The news outlet reported Zaila was aware of MacNolia Cox, who in 1936 was the first Black finalist at the bee. Back then young MacNolia wasn't allowed to stay in the same hotel as the rest of the spellers.
First lady Jill Biden congratulated Zaila for her win.
The tournament was canceled in 2020 due to the pandemic — the first time the spelling competition has gone dark since World War II.
This recent win is just the beginning for the accomplished teen.
Zaila told CNN she wants to play basketball at Harvard before transitioning to a career at NASA or perhaps a coach in the NBA. She told the news outlet she may also pursue a career in neuroscience or gene editing.
Zaila's Instagram account (now at 28,000 strong, thanks to her win) documented her path to the national spelling bee.
https://www.instagram.com/p/CErls6MAWYs/
She told CNN she has a variety of interests and was on the lookout for some new challenges to tackle.
"I'll find something else to do," she said. "Trust me."