Drugstores Are Pulling Heartburn Medicine Zantac Over Cancer Concerns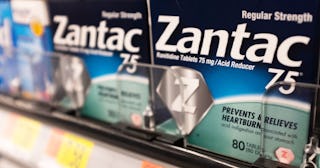 NurPhoto/Getty
Zantac hasn't been officially recalled, but some drugstores are pulling it from their shelves anyway
The popular heartburn medication Zantac is being pulled from some store shelves after research showed it might contain small amounts of a cancer-causing chemical.
In September, the FDA warned consumers that it had detected low levels of a chemical called NDMA that's classified as a "probable carcinogen," meaning it's likely that it causes certain cancers. The chemical was reportedly found in multiple medicines that contain the active ingredient ranitidine, which is the active ingredient in Zantac and generic versions of the drug. NDMA is responsible for the recall of a number of blood pressure medications.
As of now, the FDA is still investigating. It's asked the makers of Zantac and its generic forms to test their products for NDMA and send in findings, and for now, it isn't recommending that people stop taking the drugs. It isn't recommending anything until it finds out more about how much NDMA is present, according to reports.
"The agency is working with international regulators and industry partners to determine the source of this impurity in ranitidine. The agency is examining levels of NDMA in ranitidine and evaluating any possible risk to patients. The FDA will take appropriate measures based on the results of the ongoing investigation. The agency will provide more information as it becomes available," the FDA explains.
However, despite there being no clear direction from the FDA to do so, major drugstores including Rite-Aid, Walgreens, and CVS have decided to voluntarily stop sales of Zantac and its generic equivalents. In a statement, CVS representatives said that decision "is being taken out of an abundance of caution." The retailer also said customers who have bought Zantac or generic versions of it can return it for a refund.
While no official recall has been issued, two makers of generic versions of the drug, Apotex and Sandoz, have voluntarily recalled their products.
Zantac is a popular medication that many people take because of its over-the-counter availability. For pregnant women and moms who suffer from heartburn, it's a common choice, which is what makes this news more than a little bit concerning.
However, until the FDA releases any official recommendations about whether people should or shouldn't continue to use it, people should try not to panic. The FDA has said that if you're concerned, you can talk to your doctor about switching to an alternative heartburn medication — there are tons of safe and effective ones on the market.