Dwyane Wade's Daughter Walked Her First Red Carpet as Zaya Wade
by Kristine Cannon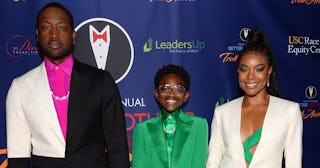 Andrew Toth/Getty Images
Zaya Wade walked her first red carpet since coming out as transgender, and the whole family looked incredible
Dwyane Wade and Gabrielle Union-Wade's 12-year-old daughter, Zaya Wade, walked her first red carpet since coming out as transgender; and it was not only a powerful — and proud — moment for Zaya, but for the entire Wade family.
"Everyone allow her to re-introduce herself her name is Zaya Wade!" Dwyane captioned a photo of Zaya he posted to Instagram on Sunday. "Last night was Zaya's first red carpet and we couldn't have been prouder of how she handled the questions that were asked of her. She has emerged as one of the young faces and voices for the LGBTQ+ community."
Donning a bold, green-hued tuxedo jacket, shirt, and tie and a hot pink-sashed black pant, Zaya wasn't the only one dressed to impress. Gabrielle and Dwyane also wore modern, complementing pantsuits — and they had Zaya to thank for the coordinated suits.
"Yo, Zaya is a force to be reckoned with. She's the shit, and at present, this is her fave outfit, cuz she got taste. You see that silk tailcoat she requested? TASTE," wrote Rich Fresh, the designer who created the custom suits.
The Wade family attended the 2020 Truth Awards in Los Angeles on Saturday. According Dwyane, the black-tie affair recognized and highlighted "the accomplishments of the Black LGBTQ+ community and its allies."
"In doing so, they increase the awareness of their contributions to society, popular culture and the arts and help refocus the lens through which they are seen," he wrote. "The Truth Awards also provides funding for scholarships that supports educational opportunities for youth in the LGBTQ+ community!"
And, according to the event description on the Better Brothers Los Angeles' (BBLA) website, "The award embodies our belief that members of the Black LGBTQ community who embrace and live their truths should be recognized and honored. Along with our allies, they represent the very best in our community and serve as examples to us all."
BBLA and The DIVA Foundation organized The Truth Awards.
According to Gabrielle, this year's Truth Awards was an "epic night filled with so much love and a real sense of community."
"It was important for Zaya to be a part of such a beautiful night and reminding her of all the love & support she has," Gabrielle wrote. "We were moved to tears so many times throughout the night. So much gratitude."
But it wasn't just the Wade family who were moved by last night's event.
"You guys really showed me what family support looks like. I needed that," Rich Fresh said of the Wade family. "I have a cousin who I love, and she's been gay since we were kids. But I never heard anyone joke about her, I never saw the family mistreat her, never any bullshit. … Sometimes it's not about us, sometimes people just wanna live in their own truth."
During the event, the Wade family honored husbands and stars of Netflix's Styling Hollywood, stylist Jason Bolden and interior designer Adair Curtis. Bolden and Curtis received the Business Leadership Award.
When the Wade family took the stage to present, Dwyane spoke proudly about Zaya.
"When our 8-year-old daughter, Zaya Wade, came home and said she had something to tell us, when she came out to us, as a family, we admitted that weren't as educated about the LGBTQ+ plus community as we should have been," he said, adding that they did receive help from friends who helped them "navigate the right language to use, the questions to ask, and what to listen for."
Dwyane added: "They also reminded us to make sure Zaya knew her community and felt the love and support inside and outside from home. From working closely with Zaya to design her room in our homes to make sure that her most authentic self was represented and that her bedroom felt like her sanctuary, that may seem small, but taking the time to make sure Zaya felt seen and heard as she created her own space for us was key. It was key to Zaya's comfort and her confidence."
During an interview on The Ellen DeGeneres Show in February, Dwyane recalled the moment Zaya came home and told them her true gender identity. "[Zaya] said, 'Hey, so I want to talk to you guys. I think going forward I am ready to live my truth. I want to be referenced as 'she' and 'her.' I would love for you guys to call me Zaya.'"
"This is no game to us," Dwyane told DeGeneres. "We're about protecting her heart and about protecting her joy and we have to support them. As parents, we put our hopes and we put our fears on our kids. And with Zaya, we decided to listen to her, and she's leading us along this journey."