This Is How Zelda Williams Celebrates Her Dad's Birthday Every Year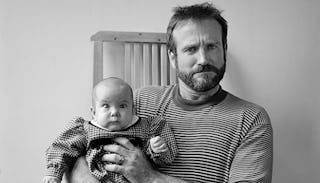 Image via Instagram/Zelda Williams
Robin Williams' daughter shares a heartbreaking tribute to her dad for his birthday
Aside from Fred Rogers, there may not be a more universally beloved celebrity than Robin Williams. Though far more provocative than dear ol' Fred to be sure, Williams played a significant role in the lives of generations of his fans. But he's also someone's dad (three "someones," to be exact). And his daughter, Zelda Williams, is opening up about what it's been like to grieve her father along with the entire world.
If there is a more well-rounded career than that of Robin Williams, I can't think of whose. He mastered everything from raunchy stand-up comedy to beloved children's movies to gut-punching, Oscar-nominated dramatic roles. He was a lightning bolt of energy and an incomparable talent, and the world still misses him madly four years after his death.
When grieving his loss, it's important to remember he was also a man. A husband, a father. His daughter, Zelda, opened up about what it's like to miss her dad along with strangers everywhere.
"It's that time of year again," she begins, two days ahead of her dad's birthday. "Everyone who has dealt with loss knows the pain of certain anniversaries, moments full of memory that come round like clockwork and usurp all others, no matter how hard you may try to prepare for or avoid them. These weeks are the hardest for me, and thus, you'll see me a lot less, if at all."
Each year around this time, Williams says she logs off for some "me time" to reflect on her life with and love for her dad — as their birthdays are only 10 days apart. She kindly but candidly expresses what it's like for so many people all over the world to open up to her about how much they admired and miss her father.
"For all the internet's good intentions in expressing to me their fondness for dad, it's very overwhelming to have strangers need me to know how much they cared for him right now," she says. "It's harder still to be expected to reach back. So while I've got the strength, consider this my one open-armed response, before I go take my yearly me time to celebrate his and my birthdays in peace."
My father is my the only parent I have, and I can't bear to think of a day or a week or a life without him in it. I can't imagine how hard it must be for Zelda to be constantly reminded of her father — bittersweet doesn't even begin to cover it. But she handles it with grace and appreciation, even though it must be incredibly difficult to share her love of her dad with so many.
https://www.instagram.com/p/BLHca8nA6Gw/?hl=en&taken-by=zeldawilliams
"Thank you for loving him," she writes. "Thank you for supporting him and his life's work. Thank you for missing him. I do too."
She encourages Robin's fans to perform acts of kindness in honor of her dad — like volunteering at a local homeless shelter and making homeless aid backpacks, a cause near and dear to her dad's heart. She also encourages everyone to "creatively swear a lot" and most importantly, spread laughter and kindness.
"Happy early birthday, Poppo," she concludes her post. "Miss you every day, but especially these ones."
This article was originally published on