This Zillow Listing Has A Very Tasteful Sex Den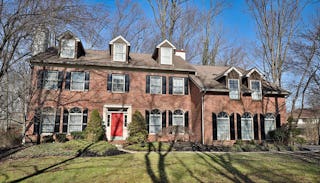 Image via Zillow
Something is seriously amiss in this Zillow listing
House hunting is hard, amiright? Are there enough closets? How are the schools? Will you be able to maintain a yard that size? Does the master bedroom have a fully equipped "private adult sexual oasis?"
You probably didn't even know you were in the market for a private adult sexual oasis, but now you do. I mean, come on. You know you need a private adult sexual oasis. You just don't know you need it. Just like everyone didn't know they needed shiplap until Joanna Gaines lightly nudged them.
Allow this Zillow listing to lightly nudge you.
"50 shades of Maple Glen. One of a kind suburban home with a sexy twist." That's how the listing starts, and oh boy it doesn't disappoint. This Maple Glen home has all the curb appeal you'd expect from a suburban Pennsylvania abode. Look at those shutters!
That looks like a fully functioning wine fridge built into the kitchen island!
Exposed brick for days!
Fireplace in the master bedroom! Built ins! Totally creepy, yet well-lit sex dungeon!
Huh.
I'm not sure what this is. Does anyone know?
Apparently, this isn't just a real estate agent with a sense of humor who went rogue. Some suburban couple has seen all the 50 Shades movies, and they likey. A lot. So much, that they installed a very well lit sex dungeon in their house, and rent it out for "events."
Home currently is being offered as an Air B&B rental @maisonxs that gets $750 a night on weekdays and $2000 a night on the weekends for private parties or entertainment. Yes, there's an Instagram account to prove it:
https://www.instagram.com/p/Bto7ITfglQC/
But the best part is that in the Zillow listing they just threw in the pictures of the dungeon in between some shots of a home gym and spacious dining room. "Around the corner is a nice eat in kitchen, and to the left is a room that will be burned on your brain for all of eternity."
Award winning Upper Dublin school district.
Oh great, an award winning school district. Your kids are definitely going to want to move out ASAP, so a solid college trajectory would be good.
I don't want to sound like a prude, but just what even is this?
House is being sold furnished.
Of course. It better be sold furnished. This bed that is going to haunt my dreams eternally better come with this fucking house. You think you're a freak in the sheets, then you see this, and your whole world is turned upside down. I mean, does your head go in this?
I blame my third grade bestie for absolutely ruining sex dungeons for me for life. Stick with me. She climbed into a sleeping bag I head-first rode down the stairs in and wouldn't let me out. Boom! Claustrophobic for life. I'll never experience joy by having all my limbs incapacitated in a guillotine-reminiscent canopy bed.
Regardless, less than a million dollars is a steal for 5,000 square feet and built in bookshelves. And sex dungeons.
This article was originally published on