Ziploc Has A Clothing Line And It's Everything We Never Knew We Needed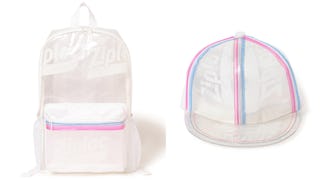 Images via BEAMS
We never knew we needed a Ziploc backpack until we saw it
Ziploc has always been there for moms. It holds freezer meals and school lunch sandwiches. It organizes Legos and Barbie clothes. It keeps snacks contained during car rides, and keeps sticky kid fingers off of important papers and photos. Honestly, who doesn't love a new and inventive way to pay homage to the best of all the plastic bag brands?
Now we have it. Ziploc just teamed up with Japanese fashion brand BEAMS to create a line of freezer-bag-inspired clothes and accessories. And yes, it's all made of sturdy, clear plastic. Did you really even have to ask?
While the idea is a little, um, out there in theory, once I saw the products I was weirdly here for it. They definitely look like freezer bags, but not in a really overbearing way. Dare I say, they're kind of cute.
Take this ballcap, for example. The pink and blue zipper lines perfectly line up with the hems and the result is an homage to sandwich bags that isn't too over the top. I'd wear it, TBH.
The visor version is a little more on the dorky side, but still fully wearable.
Want to protect your clothes while you cook, but still let your awesome style show through? Have you considered a clear plastic apron? (Also, look at all those pockets and think of all the stuff you could carry).
Want to carry your junk in tough Ziploc plastic, but don't need as many pockets as the apron? How about a cross-body bag or high-fashion fanny pack? Because you can get those too.
And as schools, festivals, and concerts are, more and more often, requiring see-through bags, I can think of a lot of uses for the backpack and tote bag in this collection.
Of course there's also an umbrella, because that's just a natural use for this material.
The only item in the line I'm having trouble getting behind is the wallet, because it's literally just a Ziploc bag.
The product page even notes that "This item has the same strength as ordinary Ziploc. If excessive force is applied, please note that tearing will occur." At that point, why spend the money? Just carry your stuff in an actual Ziploc.
Overall, though, these are some products we can get behind. They're just the right mix of quirky and cute, and anything that lets us literally wear our love and loyalty for freezer bags is a good thing. The line dropped Aug. 20 and it already completely sold out, but keep an eye on BEAMS' website for a restock.