Zoe Saldana's Husband Took Her Last Name And The World Is Still Turning
by Maria Guido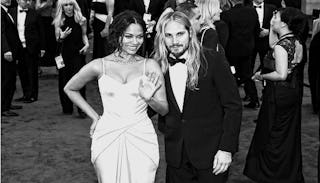 Actress Zoe Saldana's husband took her last name after they were married, and he doesn't "give a shhheeettt" what you think.
Saldana reveals in an interview with InStyle magazine that her husband — Italian artist Marco Perego — took her name after they were married in a small ceremony in 2013. She explained her decision on a post to her Facebook page yesterday:
It is an accepted social tradition that women take their husband's last name. A study from 2013 showed 90% of American women were still following this tradition. It's not uncommon to see some discussion about the merits of a woman keeping her own name, but you never hear the question raised, "Why doesn't a man take his wife's name?"
I'm not married to my partner of nine years, so I never had to face the question of taking his name. When our children were born, we gave them both of our last names. If we ever do decide to marry, I have no intention of giving up my name.
It's interesting that when a woman marries, she becomes somebody's wife — but a man can essentially stay the person he was. Yes, he's legally married, but there's no need to undertake the headache of legally changing his name. The argument we tend to hear most about married couples taking the same name has to do with their children's identity. I can tell you from personal experience it was very easy to put both of those names on my children's birth certificates. There may be some confusion with the hyphenating when they get to school — but it's nothing that can't be simply explained away.
Frankly, I like anyone who bucks the norm. There are so many traditions we follow in relationships and in life that we probably don't even understand. Take weddings for example: what is the function of a Maid of Honor? Does anyone know? I learned a few years ago after being in way too many weddings that the function of a bridesmaid used to be to dress in white so as to confuse any evil spirits who arrived to curse the bride on her wedding day. Fantastic.
There's nothing wrong with blindly following harmless traditions. But if someone decides they don't want to do that — there's nothing wrong with that, either. Maybe Marco Saldana will be a trendsetter. The world will not stop spinning if we begin to look at the idea of identity in relationships as fluid and shared. There's never been a woman who expected a man to take her name. Maybe it's time that idea started going both ways.
This article was originally published on