Zoe Saldana Lets Her Sons Shop In The Girls Section And She DGAF What You Think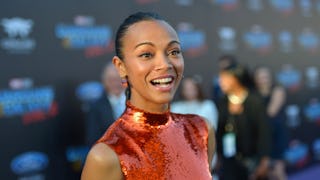 Image via Getty Images/Charley Gallay
Girls section? Boys department? Who cares
Zoe Saldana lets her sons wear what they like, and she doesn't care what you think about it. The mom to two-year-old twins Cy Aridio and Bowie Ezio and infant son Zen values her boys being comfortable in their clothes over what section of the store they're shopping in. She lets her older sons have a hand in what clothes they buy.
"Their input has begun with their shoes. They just choose what they want to wear," she told PEOPLE. "So they have different pairs of glittery, bright pink trainers, and those are the shoes that they always choose. We get them their masculine ones. They don't like those. They want the glitter, the glitter bright pink ones, and we're like, so be it."
Those adorable mommy/daughter legging combos that keep popping up in your Facebook feed? Saldana reminds us that you're not precluded from getting a set just because you happen to have sons. "My husband and I, we don't like to just stick to like the boys' section," she says. "And we like putting leggings on our sons, believe it or not." Fun patterns and comfortable enough to run around in? Leggings on boys makes perfect sense.
I have my own set of four-year-old twins, and I too have started ignoring what part of the store their clothes come from in favor of making them happy. One of my boys lives for the color red and they're both suckers for shoes that look like "treasure" aka covered in rhinestones. The boys section of the store is woefully lacking in both color and sparkle, but when we turn around to face the girls section, the options are seemingly endless.
Saldana agrees. "But sometimes when we can't find something that we need, we'll go to the girls' section, and we like seeing our kids, our boys, in pastel, bright pink colors, and they like it as well." It's hard enough trying to get a little kid dressed. At least we can stack the deck in our favor by buying clothes for them that they actually want to wear.
[I]f they have a preference of a color or a shape or a person or an animal or a story, we will never choose things for them because of their gender," she told Refinary 29. My boys love Paw Patrol, but one of their favorite characters, Skye, is missing from all of the character shirts in the boys' section. Slide on down to the girls' section and she's front and center, on the same shirt with the boy dog characters. We'll take two please.
"We are very open, so open in fact, that sometimes people mistake them [her sons] for girls because we dress them quite colorfully," she says. Little kids don't care about gendered clothing — they just want to wear things that make them happy. As parents we should take a clue from Saladana and remember that it's our children's opinion, and not the opinions of strangers that matters.
Everyone deserves to feel good in what they wear, and if that means little boys in sparkly sneakers, then so be it.