You Need These Zombie Flamingos On Your Lawn This Halloween
by Thea Glassman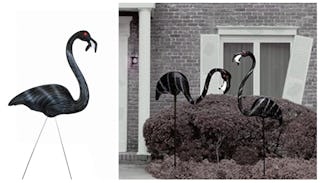 Image via United Solutions/ Amazon
Zombie flamingo decorations will make your lawn extra spooky this Halloween
It's almost Halloween, which means the time has come to load up on bulk-sized candy bags, find a costume that involves the least amount of effort, and pray that trick-or-treaters get tired at a reasonable hour. It's also the time to start making your house look as spooky as humanly possible. Enter: zombie flamingos. They're very easy to set up, super gothic, and just the right amount of creepy.
Say goodbye to the hot pink flamingos you used to float around in the water this summer. These bad boys are jet black, have beady red eyes, and look pretttty sinister. They come in packages of two, complete with metal stakes to stick into the lawn.
After setting these up, you will feel like Morticia from The Addams Family and that's a very, very good thing.
Want to add a few more creepy props to keep everybody on their toes? Thankfully, there's a plethora of zombie decorations to go around. Bonus points: some of them actually move.
These flamingos are just as creepy as the other ones, but they include a whole bunch of bones. It's not a solid Halloween celebration without at least a few bones.
Yup, you should definitely make it look like there's an evil undead creature coming out of your grass. The zombie flamingos will love the company.
Or forget the head. These hands are creepy enough.
This haunted zombie will actually move its arms and hands and has an evil flashing red eye. When activated, the creature will howl and laugh manically. It might take a little while to grow on your neighbors, but they'll eventually love it.
There's also this zombie/mummy hybrid which will howl, moan, and get everybody into the creepy, crawly Halloween spirit.
Regular zombies are scary and all, but have you ever seen evil, angry zombie garden gnomes? Because now you can't unsee them. They also appear to be carrying a severed head.
You can literally recreate the Thriller music video in your front yard with these decorations. Don't worry, I'm pretty positive we all still remember the dance moves.
Yup, this is a full on skeleton that can be planted in your front yard. Go big or go home. Halloween comes but once a year and you gotta celebrate it right.
Happy haunting, everybody.
We are a participant in the Amazon Services LLC Associates Program and may earn fees by linking to Amazon.com and affiliated sites.
This article was originally published on