Miss Universe 2019: 'Nothing Is More Important Than Taking Up Space'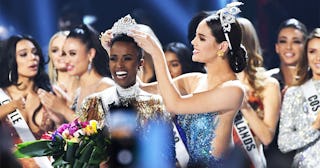 Paras Griffin/Getty
Zozibini Tunzi is a historic Miss Universe winner who will use the title to make the world a much better place
There's very rarely a Miss Universe winner who doesn't deserve the crown. The women who compete for that title have proven themselves to be beautiful inside and out, and to have the genuine desire to use their platform to better the world. But this year's newly crowned winner, Zozibini Tunzi from South Africa, is one of the most deserving winners we've seen in years.
"Tonight a door was opened and I could not be more grateful to have been the one to have walked through it. May every little girl who witnessed this moment forever believe in the power of her dreams and may they see their faces reflected in mine," she writes after her win during last night's competition.
Tunzi already won the crown at a historic time. This year, the top three contestants in the Miss Universe pageant were women of color: Tunzi, who was the winner; Miss Puerto Rico Madison Anderson, who was the runner up; and Miss Mexico Sofía Aragón, who came in third. To have three non-white women in the top spots for a pageant like Miss Universe truly shows how far the world has come in embracing diversity, which is something Tunzi spoke to on the stage as she competed for the crown.
"Society has been programmed for a very long time that never saw beauty in a way that was black girl magic, but now we are slowing moving to a time where women like myself can finally find a place in society, can finally know they're beautiful," she told reporters after her win, adding that she wants to bring "a new, fresh and different perspective of what South Africa is."
"I believe that whatever we put into the universe always come back to us, and I think that if we all work together and do all that we can, truly we can make a change," she added.
In addition to speaking out about race and diversity, Tunzi came to the Miss Universe pageant with a platform of fighting gender-based violence and smashing gender stereotypes.
"She has devoted her social media campaign to changing the narrative around gender stereotypes," her official pageant biography reads. "She is a proud advocate for natural beauty and encourages women to love themselves the way they are."
Tunzi will now hold the Miss Universe crown for a year, which will give her plenty of time to put her platforms to work. Judging just by what we've seen from her so far, we're sure she's going to use her win to truly change the world. She's not only a historic winner, but one of the most deserving we've ever seen.
This article was originally published on