Mark Zuckerberg's Viral Post Reminds Us Dads Need Time Off After Baby, Too
by Mike Julianelle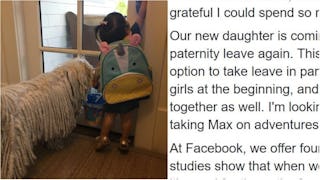 Image via Facebook
With the birth of his second daughter approaching, he announced he'll be taking two months off
Despite the fact that it's 2017 and dads play an increasingly important role in raising their children, convincing the working world that paternity leave is a necessary benefit for fathers everywhere continues to be a struggle.
One billionaire CEO is trying to remove the stigma.
No one questions the work ethic of the founder of Facebook, a tireless innovator and one of the world's youngest billionaires. Which makes his commitment to taking paternity leave all the more important.
Mark Zuckerberg took to his website to announce that, just as he did when his daughter Max was born, he would be taking two months of leave upon the arrival of his second child.
He not only uses his personal experience to justify taking leave…
"When Max was born, I took two months of paternity leave. I will always be grateful I could spend so much time with her in the first months of her life."
…he also cites studies that back up the positive impact that time off has on families, noting Facebook's progressive policy.
"At Facebook, we offer four months of maternity and paternity leave because studies show that when working parents take time to be with their newborns, it's good for the entire family."
Zuckerberg has spoken out in favor of paternity leave in the past, and it's great to see that his stance hasn't changed at all.
This time around, he'll be going it a little bit differently, by way of a unique option his company offers.
"I'm going to take advantage of Facebook's option to take leave in parts. I'll take a month off to be with Priscilla and the girls at the beginning, and then we'll spend the whole month of December together as well."
Time off for the birth of children is an increasing sticking point for employees, so much so that it became a key aspect of the last presidential campaigns. Neither men nor women in the United States get nearly as much leave as most other first-world countries, and it will take prominent business leaders like Mark Zuckerberg to help turn the tide.
Zuckerberg and his company have been at the forefront of this battle for years now, and he continues to step up and put his time where his family is.
For all the right reasons.
"I'm looking forward to bonding with our new little one and taking Max on adventures.
"And I'm pretty sure the office will still be standing when I get back."
Many American men feel trapped by a society that continue to devalue their role as parents and a country that places too much emphasis on work, the to detriment of both family and mental health.
The fact that one of the biggest companies in the world, and its wealthy, pioneering CEO, see the value in allowing dads to be a bigger part of their children's lives, is a big step in the right direction. We can't give this status a big enough thumbs up.
This article was originally published on