Zuckerberg Shares His Star Wars Baby, Inspires Landslide Of Cute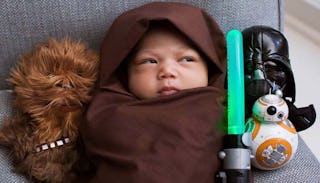 This week's premiere of "Star Wars: The Force Awakens" is bringing the super-fans out of the woodwork. Star Wars imagery is everywhere — you can't escape it. Mark Zuckerberg got in on the fun this week by posting an image of his newborn daughter, Max, in full Obi-Wan Kenobi gear:
The force is strong with this one. 47,000 shares and over two million likes. And the comment thread on this photo is the most adorable thing you'll see this week. Parents arrived in droves to share pictures of their little Star Wars fans. There's little Jedis everywhere.
Star Wars babies win the internet this week.
1. Princess Leia and her crew.
2. Little Obi-Wan
3. The force is strong in this one, too.
4. OMG.
5. Can't. Handle. The. Cute.
6. Cutest Yoda, ever.
7. Yoda dog!
This may be my favorite part of Star Wars premiere week — not gonna lie.
It's Star Wars everywhere, all the time — and I love it. When people really get excited about a movie like this, it inspires this contagious excitement and comaraderie. After seeing how much fun everyone is having and how much excitement exists around every new Star Wars movie, I can't wait to introduce my kids to the film and hopefully plant the seeds of life-long fandom.
The excitement, the fun, the costumes — what's not to love?
This article was originally published on