1 In 5 Students Worldwide Are Now Staying Home Due To Coronavirus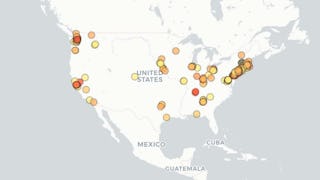 Education Week.Org
The coronavirus toll goes beyond health implications and extends to thousands of students missing school
As of late yesterday, March 11, 1,561 United States schools have been closed or are scheduled to close in an attempt to slow the spread of the novel coronavirus, or, COVID-19. Couple those closures with the dozens of countries around the world shutting down schools and the number of students worldwide who are staying at home to prevent the spread of coronavirus is around one in five.
As the virus spreads and new cases are being reported in new areas daily, many schools are taking proactive measures and shutting down. Some, for 24 hours to do a deep clean, and others, for an indefinite period until more is known about coronavirus, which has claimed over 4,200 lives total. While children hardly seem to be contracting the illness, there are still concerns of the virus being carried to other, more vulnerable populations. Social distancing has been found to help stop the spread, so while school closings may seem drastic to some, they're actually a very smart move for public health.
The one-in-five number comes from UNESCO data and is in addition to the one-in-four students being kept from higher education classes as universities also opt to shut down or move to online-only classes. So far, fifteen countries have implemented nationwide school closures rather than individual towns mandating it, as is the case with another 14 countries who are opting for localized closures.
"We are entering uncharted territory and working with countries to find hi-tech, low-tech and no-tech solutions to assure the continuity of learning," said UNESCO Director-General Audrey Azoulay. She stressed that as countries prepare their responses, "international cooperation is vital to share the most effective approaches and support students, teachers and families."
UNESCO is working to support countries in their temporary switch to distance learning so that inclusivity continues and inequality in learning isn't happening while students are unable to attend their usual school. "We are facing an unusual situation with a large number of countries affected by the same issue at the same time," said Stefania Giannini, UNESCO's Assistant Director-General for Education. "We need to come together not only to address the immediate educational consequences of this unprecedented crisis, but to build up the longer-term resilience of education systems."
Education Week has an interactive map and information on tracking school closings in the U.S. as they happen. As of last night, they report that 1,006,197 students in the U.S. have been affected by the closings so far, and of course, that number is expected to rise in the coming days and weeks as states assess the best course of action to stem the spread of the virus.
Social distancing is so far the most proven method in preventing coronavirus from spreading, along with thorough hand-washing and avoiding large crowds.
This article was originally published on