10 Must-Follow Body Positive Instagram Accounts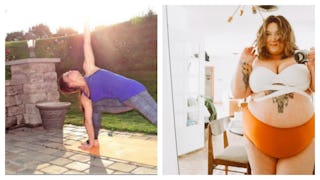 Left: Melissa Bender Instagram Right: Fat Girl Flow Instagram
I woke up the other morning, put on a sports bra, and peeled off my thermal top. But I kept my pajama bottoms on. I wanted to get in a workout before the kids woke up, and after tying my hair up, I was ready to go. With the push of a button, the app on my phone guided me through a quick, sweat-session and it was glorious.
I love working up a good sweat, but what gives me even more motivation is seeing women who keep it real and give us all the inspiration we need to unapologetically be ourselves. No one needs to see perfect poses where flaws are hidden, because let's face it, we all have them.
I have cellulite in my ass, and I'll always have a little belly no matter what I do — that's just life, and we need to see more realness and encouragement, and less of the perfect bodies (that really aren't a thing) on our screens that make us think we will never measure up.
Here are the 10 Instagram accounts to follow if you are looking to get motivated, inspired, and empowered:
Melissa has been my go-to for three years. She's a mother, shares recipes, and her workouts are effective and dynamic. Her messages are incredibly empowering and she includes all fitness levels in her workouts.
Ashley doesn't post solely about workouts, but when she does, it's so inspiring. She shows women you can be healthy, fit, and hot as hell at any size and we love her for it.
https://www.instagram.com/p/BeA-L36A3K9/?taken-by=hannahbronfman
I adore Hannah because her posts aren't just fitness-driven, but they show women what true self-care looks like. She goes out and does amazing things with the energy she has, eats healthy food, and lives life to its fullest.
Carissa Enneking posts badass pictures of herself wearing all the things. She shows women of all sizes they are not confined to a box– they are free to look and feel beautiful in bathing suits, lingerie, and sexy little dresses. She is a stunningly beautiful, positive woman, inside and out.
Val has 4 boys and has made it her mission to help other women get fit. She posts daily inspiration, and I love her memes. She reminds all women we are in this together and the importance of cheering for each other.
Jamie Eason-Middleton is a fitness blogger with two kids, and tons of experience. I love her honesty about how it can be difficult to combine fitness and motherhood. I've been following her for over three years now, and she was the one who made me decide it was time to get in the best shape of my life.
Jessamyn is one of my favorite kickass women who makes me believe I can do really hard fucking things. Look how she nails this pose. In this post, she talks about how being a certain shape or size or shape might make you feel like you are supposed to hide behind your clothes, and she's not having it. It's about loving yourself enough to wear what you want– no matter what that is, and it's a message we need to hear more of.
https://www.instagram.com/p/BfcLHwwHG_R/?taken-by=allisonkimmey
This message from Allison Kimmel is incredibly powerful. The before shot when she was "chasing'skinny'" she talks about the unhappiness that comes with that. She's right– we need to be chasing happy, and our body size should not be the deciding factor by any means.
https://www.instagram.com/p/BfbCx_ClgIq/?taken-by=emilyskyefit
Emily Skye is a fit mom who isn't afraid to put it all out there and own her reasons for continuing to exercise. She also shows before and after pictures that are very real, and it's so refreshing to see someone who lives a healthy lifestyle show us the reality of how having a child changes your body, no matter what your lifestyle is, and the idea to get back into your "pre-baby self" should only be done if it makes you happy.
https://www.instagram.com/p/BeIsKWXl9EQ/?taken-by=socalsummers
Summers Von Hesse is a mother who talks about self-care and the importance of taking time for yourself. In every picture, it's clear to see she's living her best life, taking care of herself, and remembering her happiness does not depend on what others think of her.
Whatever your goals are, the key is to love yourself. If you want to feel the burn without an audience, or see real women willing to show your their whole self without filters and poses to hide their hips or thighs, these ladies deliver. They all offer something different, so you're sure to find one you connect with.
Be ready, you are going to get addicted — these women will teach you how to be cool with who you are, no matter your size or shape, and really, I don't know a woman out there who hasn't tried to grasp that one time or another.
This article was originally published on