10 Gift Ideas For Your Best Mom Friends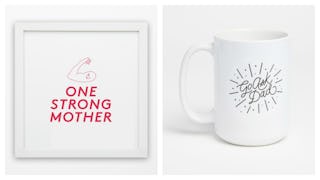 SHOP.SCARYMOMMY.COM
We all have those amazing mom friends we wish we could do more for when they are in the trenches or just having a shitty day. The problem is, oftentimes we are tangled in our own mess and can't always stop and drop our life to come help them scrape puke off there kitchen wall or deal with their mother-in-law for them.
But we can listen, blow up their phone with supportive texts, and give them a little gift to cheer them up. Here's a list of great gifts for all the women in your life when they need some lifting.
Remind your bestie of her strength with a kick-ass print she can hang in a place where she'll see it every day and won't forget how amazing she is. And while you're at it, get one for yourself too.
Let's face it: The girls aren't twins; they are sisters. Once you become a mother, your sweater stretchers don't even look like they are related anymore, and there's nothing like a funny card to make you laugh about it.
When she's had a bad week — or a bad month — this mug will be a a life-saver. All she has to do is fill with coffee every morning and teach her kids what it says while keeping her feet up and her lips sealed.
We love this clutch, and at $35, you just can't beat that. A handbag is the best accessory — they alway fit and never leave you feeling so uncomfortable you want to hurt people.
What's better than a good-smelling candle to cover up all the smells our kids leave in their wake? A personalized candle where you can add a sweet message or an inside joke to your beloved friend.
I've never met anyone who didn't melt over these Lindt chocolates. My girlfriends get more excited over these babies than any bling they could be presented with. We all have our own secret hiding places to store the deliciousness — because remember: Mama doesn't have to share.
If your friend is trying to cut down on caffeine but loves her coffee, this is what she needs in her life. Lots of flavor and it's organic without any of the caffeine.
A mom's phone case goes through the ringer, and there's nothing like getting a fresh one to make you feel like part of your life is shiny new. We love all these fun designs and you can not beat the price point.
Getting treats (healthy treats that don't taste healthy at all) delivered to your door just in time to greet the PMS that lives within has been one of the best things that's every happened to me. Moon Cycle bakery delivers all of the goods without leaving you full of regret or heartburn.
Splurging on something pretty to lounge around in is a rarity for moms, and these cozy (and pretty) lounge pants are sure to make your friend feel a bit better when they are housebound with sick or teething kids, or under the weather themselves trying to keep up with the daily grind.
A little something for our mom friends goes miles. There have been times something so simple has taken me our of the depths of my despair on those days I wasn't sure I was going to make it through.
We love getting gifts like this, but even more, it's good to drop one off or throw one in the mail for your mom friend who is struggling or just because you want her to know how much you love and appreciate her.
This article was originally published on