10 Great Apps And Websites For People Who Hate The Gym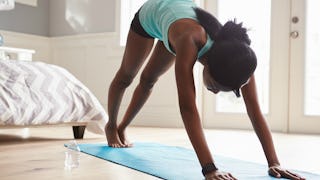 monkeybusinessimages / Getty Images
Exercise. It's such a heavy word for a variety of reasons. Whatever your reasons for wanting to exercise, finding the time to do so is usually one of the hardest things. Between all the shit we have to get done on a daily basis, who can carve out an hour to go to a workout class?
Then when you get there, you feel self-conscious about being in a room with a bunch of people who clearly have more time to get to class than you do, which makes the experience excruciating.
Enter the marvelous world of at-home workouts. You do them on your own time from the privacy of your own home, where no one cares if you're wearing the T-shirt from your high school play in 1995 and have a lop-sided ponytail.
No matter what your level of experience, you can find a workout program you can do. Not a lot of time? There are plenty that you can squeeze in between soccer practice and dinner. Not a lot of money? There are free options too. Not a lot of motivation? There are some that will all but give you a virtual kick in the ass to get started.
These are some of the best apps/websites to find diverse types of workouts. All apps are available for both iOS and Android.
Sure, you can find just about any recipe you're looking for, and you spend hours creating pin boards for everything from your dream wedding to home decor, but you can also find thousands of workout pins. Seriously, it gets addicting. I legit have an entire board of exercise pins simply devoted to trying to get my butt back from when it dropped those two inches after having my kid. Spoiler alert: SQUATS! SQUATS! SQUATS!
As a person who only runs when I'm being chased, the thought of running a 5K seems incredibly daunting. But this app shows even the most novice runner how to build themselves up to be able to run one if they feel so inclined. And if you're one of those people who would only run if being chased by zombies, there's even a Zombie version of Couch to 5K.
Yes, people most often associate BeachBody with pushy MLM strategies, like complete strangers accosting you in the dairy aisle or because you're in the same Facebook mom group, but there is a way around that. The BeachBody site has the DVDs of all their workout programs, and you can also do many of them on demand, as well through their subscription service. No pushy sales pitches, no chalky tasting supplement drinks; just some sweet Hip Hop Abs or Shaun T's Insanity.
The Bar Method is a mix of ballet and yoga, while incorporating more traditional workout elements like weights. There are studios all over the country, but if you don't have the time to attend a class, or there isn't a studio near you, you can do the classes online, even if you don't have a barre. I've taken a barre class before, and let me tell you, afterward it was difficult to pee and sneezing was hell, but it hurt so good.
Sure, YouTube can be a vast wasteland of Ryan's Toy Review videos and that incessant Finger Family videos, but it actually has lots of other uses too. There are tons of workout videos there, for those who need to be following along with a workout, or at very least need a moving visual aid.
Here are some popular YouTube yoga pages:
Sweat is a workout website designed specifically for women. There are a variety of workouts, from weight training to postpartum exercise, and the flexibility of time. You can also change your workouts and goals as you feel necessary, which is good if, like me, you stop exercising when you get bored with doing the same thing all the time.
As if free two-day shipping wasn't enough, there's yet another reason to love Amazon Prime. There are thousands of workout videos of all kinds that you can access for free through your Prime Video subscription. So, you can chase the adrenaline high of an amazing shopping score with a solid workout. Some faves are Shazzy Fitness: In the Beginning and TheGymbox Workouts On Demand.
Is it worth it, using Sworkit? Put your mat down, sweat, and then you smashed it. But seriously, no matter how little time you have, you can find a workout on Sworkit. You can cultivate your own ideal workout depending on what you're looking to accomplish, whether it's toning up or to just feel stronger.
Honestly, sometimes there just aren't enough hours in the day to exercise. Enter the 7-Minute Workout app. There are a bunch of different quick workouts that you can do — all in durations of 7 minutes — so even if you don't have much time to commit that day, you can squeeze in a quick sweat sesh.
This workout brings you the joy of taking a class, but without the anxiety of working out with a bunch of strangers. The classes are streamed live throughout the day, and you can adjust for your location. Since you log in to the class, the instructor knows you're there and may actually call you out by your name to motivate you, just like if you were at SoulCycle.
https://www.instagram.com/p/BhmPQ6nj2QL/
The best thing about working out at home? You don't feel guilty and won't feel ashamed for missing a class. If you don't have time, or you forget (some days I barely remember to brush my hair and put on a clean shirt, much less exercise), you can carve out a few minutes before bed, or whenever you have extra time.
Because working out shouldn't feel like work.
SaveSave
This article was originally published on