10 (More) Things To Do In Los Angeles With Kids
by Amber Dusick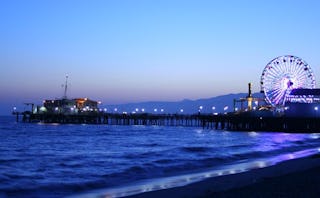 I'm writing my top 10 after this list so I'd just like to say ditto to all of Angie's picks and then add these. I wish I could write 100 suggestions though. I love LA! If you're visiting LA with kids, you'll want to check these things out …
1. Want an outdoor place to let the kids yell? Griffith Park is big enough that nobody will care. I mean really big. It is over 4000 acres full of natural beauty. It also has bonus features, like pony rides, a carousel and a miniature train ride. The Travel Town Museum is our family favorite where kids can explore real, life-sized trains. Not to mention the Griffith Park Observatory, where the views are spectacular and a great place for budding star gazers. Some of these things are only open certain days of the week, so check the websites first. .
2. Santa Monica Pier is the single remaining amusement pier in the Los Angeles that is over 100 years old with a fascinating history. And while a whole 1/3 of it was swept away into the ocean in 1983, it was fully restored. It has a amusement rides, a carousel from 1922, food vendors and an arcade.
3. Go on a hike! Where is the world's largest park that is located within the boundaries of a city? Los Angeles, that is where. And the largest park is Topanga State Park. Each area is vastly different and can take you through grasslands, wooded areas, waterfalls, rock formations and more. Another place we love to hike is Malibu Creek State Park with beautiful rock pools and a visitor center with child-friendly displays that you are supposed to touch.
4. For a bit of Southern California history, the Chumash Indian Museum is a great place to go. The museum has a gift shop and it sits on 432 acres of land that you can explore. We always see deer and the kids love running around the Chumash sites they have set up.
5. The Petersen Automotive Museum is a must visit if you have kids who are into cars. And it is an interesting place to visit even if you aren't into cars, uh, like me. The entire 3rd floor is dedicated to children and has hands on activities as well as a huge Hot Wheels exhibit. And they always have a changing display.
6. Beaches. Okay, so the other list already mentioned beaches. But really, there are so many of them that we can do it again. Plus, my favorite one is different. Our family favorite is Leo Carrillo State Beach, which has incredible tide pools filled with sea anemone, hermit crabs, sea urchins, sea hares, sea stars and more. Once, we even saw an octopus. Awesome. This is my all-time favorite Los Angeles area beach for kids. Parking is free on PCH.
7. The Santa Monica Pier Aquarium is tucked underneath the ramp of the Santa Monica Pier so it is easy to miss. It has over 100 species of ocean animals and plants and is family friendly. A great place to learn and gain a new appreciation for local ocean life.
8. Hungry? Canter's Deli is one of those LA institutions that you just can't miss. It always has an interesting mix of clientele. They give you crayons for the kids and it is loud enough inside that nobody will care if your kid gets amped up on cream soda. The place is huge so the wait is never terribly long and even if it was, the reuben is worth it.
9. This might be a weird suggestion for a travel guide, but Prehistoric Pets is a dream come true for my two reptile loving boys. It is a short drive from Los Angeles but well worth it if you are into slimy things. Just kidding, I know snakes aren't slimy. The folks that work here know what they are doing and there is always an animal (or three) out and about for the kids to hold and touch. It goes without saying, if snakes make you scream you should skip this one.
10. The Kidspace Children's Museum in Pasadena is a great place to spend the day with kids. It isn't much of a museum, as much as it is an exploratorium. There are both indoor and outdoor hands on displays and interactive exhibits. It is the perfect blend of learning and fun.
Got any more suggestions in LA? Leave them in the comments!
This article was originally published on